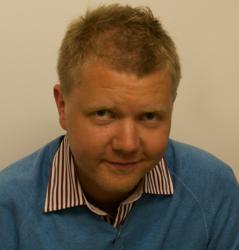 The first day, they put a camera in your hand, you go out shooting, and the learning begins
San Francisco, CA (PRWEB) November 17, 2012
Becoming a filmmaker can seem like a dream for film enthusiasts, but rarely a tangible reality. That's what Jonas Klittmark thought. A software engineer by training who has also worked in various sales, marketing, and product management positions in the technology industry, Klittmark never thought filmmaking would be a viable career choice. That is, until he completed the 1-Year Digital Filmmaking Program offered by the San Francisco School of Digital Filmmaking (SFSDF).
Since completing the film program at SFSDF, Klittmark has completed work on his own films. He shot a short documentary, The Long Walk Home, which has screened at several film festivals and garnered favorable buzz. The documentary explores the tragic aftermath of railroad deaths through the lens of the train crews, who unwillingly become spectators, perpetrators and ultimately victims themselves.
Starting early next year, Klittmark will begin production on his first feature film. Filming will take place in Klittmark's native Sweden and the film is a dark drama that revolves around a strong female lead.
Klittmark acknowledges that his time at SFSDF was crucial to his development as a filmmaker. He says, "I wouldn't have tried to make a film on my own without going to film school because there's an incredible amount of knowledge you need to pick up."
He enrolled in the 1-Year Digital Filmmaking Program at the San Francisco School of Digital Filmmaking, choosing both the program and the school for its hands-on approach to filmmaking. Klittmark says, "The first day, they put a camera in your hand, you go out shooting, and the learning begins." The school also provided extensive film training that gave him a taste of each aspect of the production process.
Though he had no prior film experience, Klittmark's prior career in the tech industry did give him a leg-up in some of the more technical aspects of the filmmaking process. Klittmark explains, "Editing is quite technical these days; its limitations and how to create the visuals you need to create your story can be a somewhat technical practice. Understanding computers can be really helpful."
For other aspiring filmmakers who came from the tech industry, Klittmark advises, "Give it a try. That's what I did. I really wasn't sure if it was going to go anywhere beyond a year of education. After trying it, and making a few films that have gotten good reviews, I'm going to continue to do this as long as I can. I would never have done that without going to film school."
The San Francisco School of Digital Filmmaking is currently accepting applications for their digital filmmaking program and workshops. For more information, visit http://www.sfdigifilm.com.
About the San Francisco School of Digital Filmmaking
The San Francisco School of Digital Filmmaking (SFSDF) offers film workshops and programs that teach students the art and craft of filmmaking. The school offers a unique, hands-on curriculum and small classes that encourage mentorship and nurture creativity. SFSDF faculty is comprised of accomplished directors, producers, writers, musicians, editors, actors, art directors and sound designers. Students learn using the latest technology and equipment in digital film.
SFSDF offers a number of exciting and challenging filmmaking workshops, many of which can be taken part-time. Their immersive 1-Year Digital Filmmaking Program is designed to prepare students to pursue a career in the film, TV and new media industries. Their 2-Week, 5-Week and 3-Month Filmmaking Workshops give students a valuable hands-on experience into the art and craft of moviemaking. Their new 6-Month Documentary Filmmaking Program trains students who are ready to delve into the world of non-fiction filmmaking. All of their film programs and workshops have a project-based curriculum that combines classroom study with hands-on filmmaking using professional equipment.