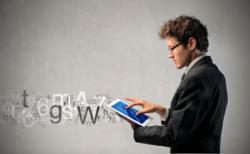 It came as little surprise, Loposer said, because rumors had been flying around for a while. Now that the truth has come out, Amazon has really "brought out the big guns."
Austin, TX (PRWEB) September 10, 2012
Digital Marketer's Managing Editor and lead blogger Josh Loposer wrote a post recently about the newest additions to Amazon's line of e-readers, and the marketing implications that may result.
"Yesterday, Amazon launched a major offensive, unleashing a handful of new Kindles across a wide swath of price points," Loposer wrote.
It came as little surprise, Loposer said, because rumors had been flying around for a while. Now that the truth has come out, Amazon has really "brought out the big guns."
"We knew that Amazon was rushing to get out there first with its new Kindle lineup," Loposer said in the post. "I wrote about all the tablet rumors a couple of weeks ago, but somehow it snuck up on me all the same. I was watching the Cowboys game, then — KAABLAM! – I saw the commercial featuring not one, but a bunch of Kindle devices that I'd never seen before."
While debatably a move to compete with the up-coming iPad Mini, Amazon's release of several Kindle e-readers won't necessarily win out, Loposer said. It's too early to tell, but customers will have to wait and see what Amazon's eventual outcome truly is.
Information like this is available on a daily basis on the Digital Marketer blog, where the best of the best online marketing gurus share their ideas on trends and news flowing through the Internet. It's part of DM's continuing efforts to keep marketers across the globe up to date on what's affecting their business on every landscape.
Digital Marketer's blog is available to anyone, but becoming a member of DM Pro gains access to information-packed monthly digital newsletters from the brightest minds in the industry, as well as a collection of Special Reports on how to combine marketing with major Internet players like Apple, Amazon, Google, and YouTube. A DM Labs membership takes things a step further, with split test results, website reviews, and of course access to RAW Trainings that are available anytime from any online device after their live events.
Digital Marketer releases informational and educational materials to help businesses and entrepreneurs gain insight and information on the trends, data, and strategies that can take them to the top of their industry. Through their RAW Training courses, strategic plans, blogs, newsletters, site reviews, and Special Reports, Digital Marketer supercharges every single marketing campaign it touches. For more information, visit DigitalMarketer.com.