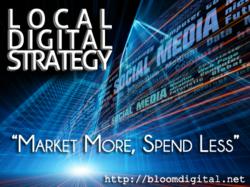 "I Love The Analytics Reporting And Not Only Did The Buzz Around My Business Go Up, The Revenues Did Too Thanks To Bloom!" F.M. - Vera Fare Cafe - Bozeman, MT
Bozeman, Montana (PRWEB) May 24, 2012
Just a stone's throw away from the Oracle offices in Bozeman, Montana arises start-up digital media marketing firm Bloom Digital Media. Bloom's unique approach to the silo production process for local online digital strategy offers small businesses a higher quality website, mobile website, local online marketing and overall local online marketing strategy. By applying these tools companies will build strength in their online presence and broaden their customer base through pull marketing efforts, design usability and integrated social media through desk and mobile devices. Within one valuable package Bloom literally provides you more for less, fast!
This program is especially effective for those companies that are progressive to the need of an effective campaign through local digital media marketing and raising online awareness for potential customers. Bloom's current starting package is the "Local Launch Package" for only $799. This includes a website, mobile website/app and social media integration to create and maintain a consistent marketing message. Bloom has proven itself in search engine optimization by already ranking very well for " Local Digital Strategy" and "Small Business Digital Strategy" in the major search engines such as Google, Yahoo and Bing.
"Basically, this new approach is perfect for any small business that has been looking for the greatest value with the most impact in this arena. To follow the current demand in the corporate world, local businesses that move forward with a strong overall local digital strategy will be the dominant online marketers within their regional demographic," says CEO David MacDonald. MacDonald goes on to emphatically explain that "a website, search engine optimization and social media alone are not enough; businesses must be mobile friendly and easily found on smartphones in particular. This overall strategy is unavoidable for businesses to survive. Bloom does that for you and we can literally help small businesses 'Market More and Spend Less!'"
Bloom's unique skill set and efficiency toward results driven Local Digital Strategy development has been carefully designed to help small to medium size businesses (SMB) launch a local or regional marketing campaign to effectively, efficiently and inexpensively advertise their business online.
Through modern efficiencies, software tools and creative processes, Bloom strives to implement and deliver these optimized user experience campaigns in a much shorter period of time; often in under 2 weeks. No other company will offer you such a great result at such a great value.
The value of the Yellow Pages, Radio and Newspaper advertising doesn't have the promotional weight it once did. Any small to medium size business that hopes to be competitive over the next few years MUST have an effective Digital Strategy.
Bloom Digital Media Delivers the Digital Strategy to help your business bloom into the online and mobile marketplace.
Bloom Your Business Today to simply "Market More, Spend Less"!
Bloom Digital Media, Inc. was founded in early 2012 with the core purpose to inform and implement an overarching digital strategy program for local small businesses. Not just SEO(search engine optimization), not just websites, not just mobile, not just social media - but an entirely effective, efficient and affordable Digital Strategy. Bloom's mission is to create something useful, entertaining and beautiful on behalf of a brand; and where technology and technique are important, Bloom's ultimate achievement is to make a connection with a human being. Bloom Can be reached at 888.869.5550 or http://BloomDigital.net