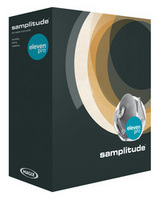 The increased focus on usability will allow our users to spend even more time on being creative. That is really the core to our software, the creativity of our users
Toronto Ontario (Vocus) July 30, 2009
(MAGIX) As MAGIX prepares for the North American launch of Samplitude 11 and Sequoia 11 Digital Audio Workstation , MAGIX has partnered with Music Marketing Music Marketing for the marketing and distribution of its award winning line of products. Music Marketing is an established player within the music industry with years of experience in sales and marketing of music software and hardware.
"We are happy to begin this exciting partnership with Magix to promote Samplitude and Sequoia which are both highly respected tools in the digital audio workstation market worldwide," said Ray Williams, President of Music Marketing. With this partnership MAGIX will be able to serve its customer base across North American more effectively.
MAGIX continues to innovate as it has its previous versions. Since the release of version 10 MAGIX has been working closely with its user community and integrating their input regarding workflow and functionality; thereby, improving the user experience in both Samplitude and Sequoia. MAGIX has concentrated on improving key features such as the Hybrid Audio Engine, analytic DSP effects and object-oriented editing. All of these refinements put a best-in-class solution in the hands of audio engineering professionals. "The increased focus on usability will allow our users to spend even more time on being creative. That is really the core to our software, the creativity of our users," said Markus Gunn, President of Magix AG North America.
"Sequoia marks a revolution in the way audio is handled in the digital format. Aside from the unrivaled sound quality, the system is versatile and perfect for music, post production and mastering," said Grammy award winner Jeff Sheridan of Soundworks Studio Hollywood.
In addition to the upcoming Samplitude and Sequoia launch, MAGIX is continues to reach out to new songwriters, musicians, producers, recording and mastering studios, educators, and game developers. The MAGIX suite of tools truly offers a complete solution for audio and MIDI recording, editing, mixing, mastering & CD burning.
Contact info:
Sales -- Markus Gunn, 905-470.0400 ext. 222
Sales -- Lucas Rezza, 416-789-7100 ext. 2244
Support -- John Auvil, 905-470-0400 ext. 223
About MAGIX:
MAGIX AG is an international provider of online services, digital content in multimedia communication, consumer and professional software. Since 1993 MAGIX has among others developed software technology for broadcast solutions and audio recording, editing, mixing and mastering. In addition, MAGIX also offers customized professional solutions to business partners such as hardware manufacturers and the broadcast industry.
About Music Marketing:
Music Marketing is a distributor of music technology products for the North American market. The Toronto-based company has product specialists and account managers in most major markets in the USA and Canada – including New York, Los Angeles, Miami and Nashville.
About Sequoia:
Sequoia is a High Definition Digital Audio Software package for the PC, specializing in the areas of 'multitrack recording & editing' and 'broadcast & mastering' areas. Sequoia offers all that a digital audio workstation needs: recording, editing (including 4-Point Source/Destination editing), mixing, mastering and Red Book standard CD burning. The burn process is carried out directly from the multi-track project together with all the effects, plug-ins, crossfades, and cuts without bouncing or time/memory loss, or the need for any intermediate steps.
For years, Sequoia has been an integral part of leading broadcast and mastering studios worldwide, including German public broadcasters, the Vienna Symphonic Library and Sterling Sound in New York.
###