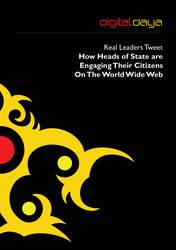 Governments with no platforms or policy to engage their citizenry and the global community on the Net will find themselves vulnerable for 21st Century politics.
Washington, DC (PRWEB) March 13, 2010
Real Leaders Tweet is a new report that examines how heads of state around the world are using the World Wide Web to engage their citizens. The report was created by The Digital Policy Council, an international, non-partisan advocacy group that promotes good governance through open and inclusive communication.
The Digital Policy Council is the research and policy arm of Digital Daya, a management consultancy firm whose mission is to empower governments and government-linked interest groups with new digital platforms and policies to advance national agenda items and create a more positive, modern, and progressive public image.
Real Leaders Tweet details a ground-breaking shift that is transforming the way in which governments in the 21st Century govern and communicate. On every continent, leaders are harnessing the power of Twitter, Facebook and other social media to give their governments a human 'face' and 'voice' through which they can express political views and agendas to a local and global community.
These leaders are slowly beginning to understand and leverage what everyday people already know: that the social media has tremendous political value as a tool of engagement and influence...both within a country's borders and beyond.
A Democratic Approach to Communication
Over the past two hundred years, countries of the world have become increasingly democratic. The Digital Policy Council reports that 63% of the 163 countries represented by the United Nations are considered stable democracies where open communication between governments and the governed is the norm. The democratization of content and opinion on the Internet will further accelerate this openness as is evident in the actions of enlightened leaders worldwide.
From Jordan's Queen Rania to Australian Prime Minister Kevin Michael Rudd and American President Barack Obama, more and more political and public figures use Twitter to speak in a personal way to their citizens and bring discourse and debate directly to the global public. Yet while these leaders share many characteristics, perhaps the most startling fact revealed in Real Leaders Tweet is that it is the stability of their governments, more so than the form of government that appears to be of critical importance to an embrace of social media.
Stability, Not Democracy Is Key Factor
Research shows that leaders that are confident in their leadership role and assured of their political legitimacy are most comfortable with social media. They do not hesitate to use micro-blogging to engage their citizens and the global community directly, regardless of whether they serve in democracies, monarchies, or other autocratic forms of rule.
Surprisingly, less than a quarter (22%) of heads of democratic states use Twitter, while there is a growing trend towards micro-blogging in what many think of as more 'restrictive' forms of governments. This fact brings into question just how inclusive democratically elected officials may truly be.
It has also prompted the Digital Policy Council to take a proactive stance by urging government leaders and citizens in all countries to call for an increase in transparency and open communication to advance good governance and collaborative policy making.
15 Million People...and Counting
Why Twitter? The answer can be found in Twitter's user numbers. The Digital Policy Council report observes that the popular micro-blogging site is home to over 15 million profiles. According to Twitter, itself, almost 600 tweets are sent every second making this site the place to be heard and to listen to what others are saying.
Furthermore, unlike traditional media, social media sites are available any time and anywhere an Internet connection can be made. Instead of waiting to be 'covered' by mainstream media outlets like CNN, leaders who tweet are able to communicate quickly with their people...and without filters.
This is particularly significant in times of crisis and chaos.
The Immediacy of Social Media
At 2:40 A.M., just hours after three churches were bombed in Malaysia, Prime Minister Dato Sri Najib Razak quickly turned to social media rather than traditional, mainstream media to denounce the violence. The Digital Policy Council reports that he used Twitter to reach out almost instantaneously to communicate with shocked citizens worldwide who had long looked to Malaysia as a model Muslim-majority country where different religious and ethnic communities co-exist peacefully.
Prime Minister Razak's Tweet read, "I condemn the church bombings. An investigation has been launched and those responsible will be brought to justice."
In the United Arab Emirates, HH Sheikh Mohammed Bin Rashid Al Maktoum, UAE Vice President, Prime Minister and Ruler of Dubai, similarly used social media to call for national unity when his country was under attack by the international mainstream media over debt problems. "Abu Dhabi Dubai and other emirates are strong and united in UAE," he Tweeted. "We're one tribe. One family."
Giving Power to the People
The Digital Policy Council reports that through the development of social media, individuals are plugged-in, empowered, and connected to one another in a global community where the exchange of ideas and unbiased news is seen as a right, not a privilege. The dissemination of information is no longer controlled by large publishing houses, dominant corporations, or even powerful governments.
Iran is a prime example. Although the Iranian government controls its traditional media, discontented citizens unhappy with recent elections in that country were able to make their dissatisfaction known to the world through the use of social media. This is why leaders of unstable countries "continue to view Twitter and other social media as a threat to their authority, and justifiably so" reports The Digital Policy Council. DPC notes that restrictive governments are attempting to control social media access as a way to keep control over their populations. Evidence of this trend is seen in countries from China to Venezuela.
The report posits that web-based media will enhance the desire for inclusive governance among people living in restricted societies. And while their leaders may resist the use of social media, the population itself will embrace it and use it despite constraints. In this way, concludes The Digital Policy Council, social media must be viewed as "a significant means of change and NOT a means of control."
Governments with no platforms or policy to engage their citizenry and the global community on the Net will find themselves vulnerable for 21st Century politics.
For more information about The Digital Policy Council and Digital Daya, you may visit http://www.digitaldaya.com
Click here to view the research report Real Leaders Tweet
About The Digital Policy Council™
The Digital Policy Council (DPC) is an international, non-partisan 'think tank' that promotes good governance and policy-making. The research and policy arm of the management consultancy firm Digital Daya, DPC's mission is the advancement of open discourse on issues of inclusive governance through the use of the Internet and Web 2.0. To access research from the The Digital Policy Council, please visit http://www.digitaldaya.com/
Contact:
The Digital Policy Council
http://www.digitaldaya.com/
In the U.S +1-202-379-4787
In the United Arab Emirates +971-4-313-2086
In Malaysia +60-3-2168-4201
Email: public_relations(at)digitaldaya(dot)com
###