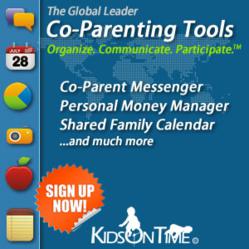 designed to help co-parents communicate better, stay more organized and help keep them out of court
Portland Maine (PRWEB) February 26, 2013
Kids On Time announces today the launching of their Digital Diary. The Digital Diary encapsulates events in chronological order over any specified period of time. Log and collect emails, documents, photos, videos and voice mails while displaying them in a dynamic digital graphic timeline. Present creditable evidence in an organized and logical manner with undisputable accuracy.
KidsOnTime.com co-parenting tools are web-based applications for co-parents and blended families. Using the latest cloud computing technology, KidsOnTime.com aids in preventing, managing and containing conflict, directing each co-parent to focus on the issue or situation at hand. Kids On Time co-parenting tools work equally well for collaborative couples and those involved in high-conflict disputes. It is a simple to use powerful and comprehensive communications tool with undeniable value.
The Digital Diary consists of a personal journal, time stamped document storage, and an evidence timeline. Each of the Kids On Time co-parenting application events can also be included in the diary. Entries in the money manager, private messages sent and received can be selected to be added to the timeline as evidence.
The beneficiaries of this enhancement are twofold: Parents and professionals (such as attorneys, parenting coordinators and mediators.)
Kids On Time is designed to help co-parents communicate better, stay more organized and help keep them out of court. It does so very effectively. However, sometimes, court in inevitable. The Kids On Time Digital Diary is an exceptional tool that helps prepare parents for court.
The Digital Diary assists professionals with compiling evidence in a logical manner and is available via the Kids On Time Pro Application. Kids On Time Pro is the first of its kind and is expected to revolutionize the way professionals manage their clients. All clients who use Kids On Time are visible at a glance. Professionals can be proactive with the ability to assign clients a conflict level, invite them to use Kids On Time, login to their account and get real-time alerts before problems get out of hand.
According to Anne Sleeman, President of Kids on Time, "Even with the use of the most sophisticated co-parenting tools and other organizational software, going to court is, at times, especially in the case of child custody cases, inevitable. We have designed the Digital Diary to be a snapshot view of all types of communications, events and documents between a parent and their former spouse. With chronological organization, you present all pertinent data more streamlined."
For a limited time, Kids On Time will be offering the Digital Diary to all of their members at no additional charge.
About Kids On Time, Inc.
Kids On Time is a pioneer in the co-parenting software market. The company's flagship product is a co-parenting application for divorced or separated couples and blended families. Kids On Time applications are used by couples and professionals working with divorced parents. Kids On Time connects co-parenting couples through the use of technology to help them communicate better and more effectively for the purpose of raising their children. Kids on time is the undisputed leader providing affordable, user-friendly, technologically advanced co-parenting tools. Keeping in front of the technological trends allows Kids On Time to pioneer and create new niches in the market. Kids On Time is headquartered in Portland ME with an office in Phoenix, AZ and East Sussex, UK. For more information visit http://www.kidsontime.com Follow us on Twitter @kidsontime