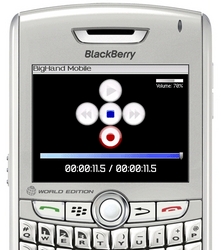 We are proud to have implemented BigHand at these firms too. The quality of the software and the gained results speak for themselves!
Meerssen, The Netherlands (PRWEB) October 27, 2008
Morningstar Systems, subsidiary of the I.R.I.S. Group and specialist in Records and Knowledge Management and Customer Relationship Management for the legal sector, today announced it has implemented BigHand Digital Dictation software at three more satisfied law firms. These new clients mean Morningstar Systems has now implemented BigHand technology at over 25% of the Dutch Top-50 law firms.
PlasBossinade, KienhuisHoving and Ploum Lodder Princen are the three firms to have recently selected the successful combination of Morningstar and BigHand. The main reasons for implementing BigHand software varies from dictating outside the office, to better quality of sound and even process improvement.
PlasBossinade started using BigHand about three months ago. Before implementing BigHand, the law firm worked with another enterprise digital dictation system for almost 18 months. Eventually, after extensive evaluation of various suppliers, they decided to roll out BigHand throughout the whole company. Stefan Mak, Managing Partner PlasBossinade is very happy with this decision: "BigHand is a really user-friendly solution. It is possible to dictate at home and send the sound file by e-mail to the office, even confidentially if necessary. This means work can always continue, even during holiday seasons; secretaries can exchange work easily."
At KienhuisHoving, BigHand is used for mobile dictating through BlackBerry. "In particular the acceleration in work speed is a big advantage. When working on analogue, on many occasions the tape only arrived at the secretary when it was full, whereas now every dictation can be sent immediately. The quality of sound is also much better and secretaries can easily support each other", said Norbert Haas, partner at KienhuisHoving.
Claudia Busch, Managing Director at Ploum Lodder Princen notices a distinct improvement in efficiency and quality. Busch commented: "We compared two different solutions, Winscribe and BigHand. However, BigHand offered more clarity about services, support and guidance. Besides, BigHand's functionalities are very good; the whole process has been improved. The capability to send dictation from other places than the office, web based and secured, is excellent."
René Beulen, Sales Director at Morningstar Systems described: "We are proud to have implemented BigHand at these firms too. The quality of the software and the gained results speak for themselves!"
Morningstar Systems - Kruisstraat 1 - 6231 LJ Meerssen - the Netherlands -
Tel: +31 (0) 43 408 6600 - Fax: + 31 (0) 43 408 6609 -
e-mail: info @ morningstarsystems.nl, internet: http://www.morningstarsystems.nl
About Morningstar Systems
Morningstar Systems is specialist in Context Management and Enterprise Content Management. Morningstar Systems is focused on improving information intensive processes both internally and externally with the main focus on the connection between structured and unstructured data sources. Morningstar has developed a number of implementation methods and techniques that are the basis of a new expertise called 'Context Management'. As a certified reseller, the company offers high standard applications in the fields of document, knowledge, email and records management, and also related applications in customer relationship and business process management. In addition to the professional services industry, Morningstar Systems has other' clients that are active in sectors like petrochemistry, pharmachemistry, and financial services.
Morningstar Systems was founded in 1996 and is part of the I.R.I.S. Group. With more than 500 ECM professionals and offices in The Netherlands, Belgium, Luxembourg, France, Germany, The United Kingdom, The United States and China, the I.R.I.S. Group is the largest ECM specialist in Europe. For more information: http://www.morningstarsystems.nl and http://www.irislink.com
About BigHand
BigHand is based out of Chicago, London, Sydney and Toronto. BigHand is the leading digital dictation vendor in the global professional services sector. BigHand3 was awarded 'Best of Breed System of the Year' at the Legal Technology Awards for 2008, and BigHand Mobile (BlackBerry Edition) was voted 'Mobile Product of the Year' at the CNET Business Technology Awards 2008. BigHand has also been nominated in the Sixth Annual Law Technology News (LTN) Awards for 2009 as 'Dictation System of the Year' and 'Mobile Tool of the Year'. Further information is available at http://www.bighand.com
###