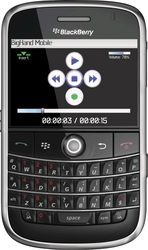 Toronto, Cananda (PRWEB) January 15, 2009
Stikeman Elliott LLP today announced that it has begun the initial stage of rolling out the award-winning BigHand Digital Dictation workflow system across the firm. BigHand technology will be used to consolidate document production workflows; to support round the clock administrative services in all offices, expediting client documentation. The voice productivity software will go to 300 desktop users initially and also incorporate lawyers on BigHand's BlackBerry Edition.
Venky Srinivasan, Director, Technology at Stikeman Elliott LLP commented: "Administrative personnel across the firm are key in enhancing the service our lawyers provide to our clients. It is also crucial that, given the current economic climate, we continue to invest in and utilize technologies that allow us to deliver legal services in as efficient and time sensitive manner as possible. Legally-specific workflow tools such as BigHand enable the firm's lawyers to take advantage of the quality of our support teams, regardless of where they are - whether they are at home or on-the-move. They will be able to instantly, verbally, delegate work to their legal administrative assistant team and track the progress of that document or task. All offices big or small will equally be able to utilize available administrative services round the clock within one click, if their normal resource is unavailable or at capacity."
Robert MacDonald, BigHand National Sales Manager for Canada commented: "The way in which Stikeman Elliott LLP is to implement BigHand workflow technology is innovative, and their use of BlackBerry devices for remote dictation is also leading a shift in the way Canadian firms are thinking about hardware convergence and voice productivity. We are delighted that a legal technology leader in North America such as Stikeman is now a BigHand client, which means BigHand software is used by four of the Top-Seven law firms in Canada, and over 700 law firms worldwide. As law firms look to 'work smart' in current conditions, interest in BigHand software is increasing dramatically."
About Stikeman Elliott LLP
A national firm of more than 500 lawyers, Stikeman Elliott is recognized for the sophistication of its business law practice. The firm was recognized in 2008 as Canada's Best Corporate & Commercial Team by World Finance and National Law Firm of the Year (Canada) in 2007 by the International Financial Law Review. Stikeman Elliott ranks as a leader in domestic and international capital markets and M&A by industry league tables, and is noted among Canada's top business litigation practices by Lexpert.
Stikeman Elliott maintains offices in Toronto, Montréal, Ottawa, Calgary and Vancouver, as well as London, New York and Sydney. Further information is available at http://www.stikeman.com
Contact:
Dan Speed, VP Marketing, BigHand. Tel: +1 312 893 5906
Jobst Elster, Envision Agency. Tel: +1 850 385 4599
About BigHand
BigHand is based out of Chicago, London, Sydney and Toronto. BigHand is the leading digital dictation vendor in the global professional services sector. BigHand3 was awarded 'Best of Breed System of the Year' at the Legal Technology Awards for 2008, and BigHand Mobile (BlackBerry Edition) was voted 'Mobile Product of the Year' at the CNET Business Technology Awards 2008. BigHand has also been nominated in the Sixth Annual Law Technology News (LTN) Awards for 2009 as 'Dictation System of the Year' and 'Mobile Tool of the Year'. Further information is available at http://www.bighand.com
###