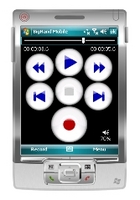 Best of Breed System of the Year
Chicago, IL (PRWEB) May 30, 2008
BigHand today announced an advanced Windows Mobile edition of its software, BigHand Mobile (Windows Mobile Edition), which brings professional digital dictation capabilities for Windows Mobile versions 5.0, 6, and 6.1. BigHand uses the enhanced features within the .NET Framework 3.5 and its integration capabilities with Windows Communication Foundation (WCF) to create connected applications that offer compelling user experiences for mobile devices. This enables devices running BigHand Mobile (Windows Mobile Edition) to act as first class clients within the BigHand Digital Dictation system, fully integrated alongside the traditional desktop client. BigHand currently has over 650 law firms worldwide using its enterprise dictation workflow software.
WCF is Microsoft's unified programming model for building service-oriented applications and it enables BigHand developers to build more secure, reliable, transacted solutions for clients that integrate across platforms and interoperate with existing investments. In terms of features BigHand Mobile (Windows Mobile Edition) also includes advanced memory management, recording & editing functionality, multiple workflow and priority functionality, context driven touch screen & keypad, and an intuitive design enabling one-handed control.
"Today's legal professionals are global and mobile, accessible 24 hours a day, seven days a week to clients," said Brian D. Zeve, managing director, U.S. Professional Services Group at Microsoft Corp. "The new BigHand Mobile Digital Dictation software for Windows Mobile improves their availability by enabling anytime, anywhere collaboration and communication with clients, experts and support staff. In addition to maximizing productivity and efficiency, law firms can also realize a reduction in document turnaround times, reduced administrative expenses and better client service - all leading to happier clients and more profitable engagements."
Steve Butterworth, President & CEO, BigHand Inc, commented: "The early integration of the .NET Framework 3.5 into our software demonstrates BigHand's commitment to remaining at the forefront in the adoption and implementation of new Microsoft technology to provide maximum business value to our customers. Utilizing Microsoft Direct Push Technology to send remote dictations to the BigHand Digital Dictation system also means we can utilize the full security provided by Microsoft Exchange Server. Windows Mobile also fully integrates mobile devices into the corporate network enabling them to be administered in the same way as desktop computers."
Why Windows Mobile for Professional Remote Dictation?
Windows Mobile phones deliver enhanced security management, a user-focused experience, and best-in-class messaging and productivity--all with a consistent and familiar Microsoft software experience.
For detailed information on BigHand Mobile (Windows Mobile Edition) please email [email protected]
Contact:
Dan Speed, VP Marketing, BigHand. Email: windowsmobile(at)bighand.com Tel: +1 312 893 5906
About BigHand
BigHand is based out of Chicago, London, Sydney and Toronto. BigHand is the leading digital dictation vendor in the global professional services sector. BigHand3 was awarded "Best of Breed System of the Year" at the Legal Technology Awards for 2008, and nominated as 'New Product of the Year' at the LTN Awards 2008.
###