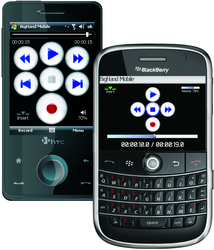 Sydney, Australia (PRWEB) March 12, 2009
Leading Australian commercial law firm Freehills today announced it has rolled out BigHand software across the firm. The award-winning voice productivity software has been provided to over 1000 staff across the Sydney, Melbourne, Perth and Brisbane offices, with Singapore due to receive the technology in March 2009. The implementation of the BigHand digital dictation workflow system formed part of a strategic initiative to create a national Document Production Service that was accessible instantly to lawyers and business services staff and that delivered client documentation of the highest standard.
Outstanding or in-progress documents at Freehills, as well as urgent or large dictations, can now be moved between individuals, teams or offices depending on workload, capacity or the time of the day maximising staff utilisation and skill sets, whilst also taking advantage of time-zone differences. Confidential voice recordings can also be confidently moved around the firm, respecting ethical walls, as the system creates information barriers and private workflows.
Philippa Thornton, Freehills Secretarial Work Practices Manager who led the programme of work to establish the national Document Production Service and introduce the digital dictation solution commented: "We had realised some time ago that we needed to upgrade our infrastructure and improve our document support framework to enable lawyers and support staff to work together more easily, and to free lawyers up so they could focus on delivery to clients. Our aim was also to ensure that all documents are of a consistently high quality, regardless of which support resource or office they originate from. BigHand's technology was an important component of the programme, as the centralised workflow management tools allow dictation to be managed and transferred within and between offices to deliver faster document turn around and improved utilisation of our support resources. In fact the BigHand system provides automated administration and customised workflow to such a degree that the number of dedicated document production team leaders required at the firm has gone from seven to four during the course of the roll out."
Following the BigHand software implementation 90% of Freehills lawyers responding to a post-roll out survey reported an improvement in document turnaround times, over 50% reported an improvement in the quality of the resulting document and more than 50% had increased the amount of dictation they produce. Work-life balance has also been addressed as the BigHand technology allows lawyers to work remotely or from home when required and connects them to crucial support mechanisms as if they were in the office.
Miles Ashcroft, Freehills Business Technology Solutions Manager, described: "When you are looking to evolve a business process and introduce change it is important that you build trust with the end-user. We wanted our lawyers to be able to trust the new processes and the technology we were asking them to use. The roll out caused very little disruption to daily work within the firm, as the BigHand software interface is intuitive and we set up workflows to reflect the way our lawyers work. This meant that they adopted the digital solution immediately following training and the improvements in workflow and productivity around dictation were immediately realised. BigHand was selected after a rigorous selection process comparing the solution with competitors. The architecture is service-orientated and proven at sites of our size and distribution, the workflow is powerful, it is AD integrated and the features are wrapped up in an interface that remains intuitive and easy-to-use. BigHand's experience and strong understanding of law firms of our size were also important differentiators. BigHand continues to innovate and provide additional modules that align well with our technology platform, for example, the BlackBerry integration."
Contact:
Dan Speed, Marketing Director, BigHand. Email: [email protected] Tel: +44 (0) 20 7940 5945
Tom Nockolds, National Sales Manager Australia, BigHand. Email: tom.nockolds (at) bighand.com Tel: +61 2 9994 8933
About BigHand:
BigHand is based out of Sydney, Chicago, London and Toronto. BigHand is the leading digital dictation vendor in the global professional services sector. BigHand3 was awarded 'Best of Breed System of the Year' at the Legal Technology Awards for 2008, and BigHand Mobile (BlackBerry Edition) was voted 'Mobile Product of the Year' at the CNET Business Technology Awards 2008. BigHand has also been nominated in the Sixth Annual Law Technology News (LTN) Awards for 2009 as 'Dictation System of the Year' and 'Mobile Tool of the Year'. Further information is available at http://www.bighand.com.
# # #