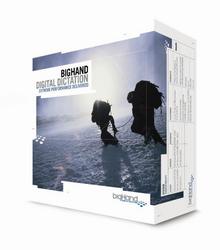 Best Legal Office Technology System 2004
London (PRWEB) April 23, 2008
BigHand has today announced that the London and Surrey based legal aid firm Venters Solicitors, has reported cost savings totaling £50,000 in only 12 months after installing the BigHand Digital Dictation workflow system. The savings equate to over £3,000 per fee-earner, per year, at the firm. Venters has achieved a significant return on its investment through the BigHand enabled restructuring of workflow, and the subsequent improvement in fee earner to secretary numbers from 12:8 to an impressive 16:6. The firm has increased its provision for earning without any growth in support, and notably, the non-replacement of secretaries that have left the firm.
Venters' secretaries have been split into two typing pools: Crime and Family, however they all access to all dictations, facilitating a true work-share culture. Venters recently opened its Reigate office, which currently houses two fee earners and one secretary. The Reigate secretary is able to pick up dictations from the main Camberwell office and vice versa, enabling the firm to take full advantage of pockets in capacity.
June Venters QC and Managing Partner, recommended the BigHand system to Mike Chapman, Practice Manager, who oversaw the implementation. Mike comments:
''We are delighted with the results achieved by installing BigHand; the commercials speak for themselves. As a legal aid firm with our eye on the bottom line, it is important that we reduce the amount of administration our fee earners undertake.
In a move to grow further, we plan to create a paralegal pool. This will ensure that resource is available firm wide. With legal aid moving to a fixed fee structure, it is vital for us to increase our overall productivity, and BigHand enables us to do this in the most efficient way.
BigHand is the most comprehensive and reliable tool that we have ever implemented, and has achieved more goals than we could ever have imagined. As well as having never lost a dictation, the system is excellent as a task management tool, and widely being used as such.''
Contact:
Jo Beckwith, BigHand. Email: [email protected] Tel: +44 (0)20 7940 5946
About BigHand
A Microsoft Gold Partner & BlackBerry ISV Partner based out of Chicago, London, Sydney and Toronto. BigHand is the leading digital dictation vendor in the global professional services sector. BigHand3 was awarded "Best of Breed System of the Year" at the Legal Technology Awards for 2008, and nominated as 'New Product of the Year' at the LTN Awards 2008. BigHand was named as the fastest growing legal software developer in The Sunday Times Microsoft Tech Track 100 league tables for both 2006 and 2005. BigHand was also recognized by Deloitte as one of the 500 fastest growing software vendors in Europe in 2006. Additionally BigHand was voted "Best Legal Office Technology System 2004" from votes from over 14,000 lawyers and IT managers across the legal sector at the LOTIE Awards. BigHand's leading product also won the Society for Computers & Law IT Award in 2003 for "the most outstanding application of information technology to the law". Further information is available at http://www.bighand.com
###