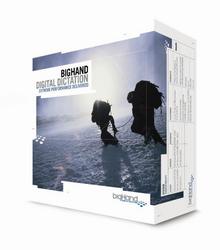 Best Legal Office Technology System 2004
Chicago, IL/Philadelphia, PA (PRWEB) January 28, 2008
BigHand, the market leading developer of digital dictation workflow systems for the legal community, today announced that Marshall, Dennehey, Warner, Coleman & Goggin, has realized a reduction in document turnaround times of 300%, plus an estimated annual saving in administrative expenses of $1500 per attorney, through its use of BigHand Digital Dictation software. Marshall Dennehey is a nationally recognized Philadelphia-based defense litigation firm with 17 offices and has successfully installed the award-winning BigHand3 Digital Dictation system among 100 users, with a firm-wide roll out of nearly 1000 users scheduled early in 2008.
Business Drivers and Selection Criteria
Marshall Dennehey, ranked 121st on the 2007 NLJ250 list, initially prioritized the selection of digital dictation software in order to replace antiquated and discontinued analog tape machines and streamline the administrative processes specifically related to document turnaround times across its network of 17 satellite offices.
Upon vendor evaluation, the firm quickly recognized that while many products were designed for the medical industry, BigHand was the only global vendor whose product was designed specifically for attorneys. Technically, the back-end of the BigHand3 system was also very sound in terms of enabling Marshall Dennehey to support all users across its vast network of offices, and by providing firm-wide, instant access, really speed up the process of getting documents completed and out-the-door. The firm realized additional benefits: "We really liked the user friendly interface, and that the workflow possibilities were suited to our legal practice, as it was important that the product be easy to train. The results certainly supported that decision," stated Sandy Caiazzo, Regional Manager at Marshall, Dennehey.
The Bottom line
The impact on document turnaround times has been dramatic. The way the system creates distinct, separate dictations and makes them available across the firm means secretaries can transcribe more efficiently and share the workload easily. In the firm's Akron office alone, document turnaround has been reduced from a 7-10 day average to 2-3 days, with the majority of work going out within 24 hrs.
In terms of administrative cost savings, overtime costs have gone down (based on BigHand dictation efficiencies), shipping costs of tapes has been eliminated from $18,000/year, and travel expenses including associated travel times have been eliminated as well.
According to John Gonzales, Shareholder, in the firm's King of Prussia office, implementing BigHand has greatly facilitated support staff workflow as well: "BigHand benefits my daily work by allowing my secretary to work more efficiently throughout the day. By breaking down my dictation into separate and discreet assignments, my secretary does not have to complete entire tapes, before moving on to the next assignment. With BigHand, however, my secretary can simply stop what she is doing and start working immediately on the rush and complete it quickly with a minimum of disruption to her regular work flow."
"We are very excited about BigHand's immediate and measurable impact on Marshall Dennehey's administrative processes and dictation workflow," said Steve Butterworth, President, BigHand Inc. "We have seen savings and productivity gains such as these across our 550 law firm client base globally - and now we are seeing these benefits being achieved here in North America."
Contacts:
Jobst Elster, Envision Agency, (850)385-4599
About BigHand
BigHand is a Microsoft Gold Partner, BlackBerry ISV Partner and ILTA Gold Sponsor based out of Chicago, London and Sydney. BigHand is the leading digital dictation vendor in the global professional services sector, maintaining the five largest sites at international law firms and with more legal installations in total than all other suppliers combined. BigHand3 was nominated as "Best of Breed System of the Year" at the Legal Technology Awards for 2008 & 2007, and as 'New Product of the Year' at the LTN Awards 2008. BigHand was named as the fastest growing legal software developer in The Sunday Times Microsoft Tech Track 100 league tables for both 2006 and 2005. BigHand was also recognized by Deloitte as one of the 500 fastest growing software vendors in Europe in 2006. Additionally BigHand was voted "Best Legal Office Technology System 2004" from votes from over 14,000 lawyers and IT managers across the legal sector at the LOTIE Awards. BigHand's leading product also won the Society for Computers & Law IT Award in 2003 for "the most outstanding application of information technology to the law". Further information is available at http://www.bighand.com
About Marshall Dennehey
Marshall, Dennehey, Warner, Coleman & Goggin, a professional corporation, was founded in 1961. A survey conducted by the Philadelphia Business Journal cited our firm as the fastest growing law firm in the Philadelphia region in the 1990's. We are gratified that this client-driven growth continues to the present time. We are exclusively a regional defense litigation firm with our professional practices encompassing a broad spectrum of litigation matters. The regional presence of our firm, consisting of 17 offices throughout Pennsylvania, New Jersey, Delaware, Ohio and Florida, spans 380 attorneys. Further information is available at http://www.marshalldennehey.com.
###