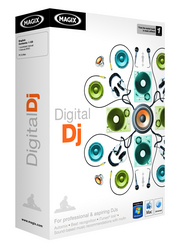 Lanham, MD (Vocus) June 25, 2010
MAGIX introduces Digital DJ, the program that can make anyone a DJ in minutes. MAGIX has opened up its summer offerings with a fun new program, one that will make any party, and make any party that much more fun. Powered by Deckadance, MAGIX Digital DJ gives a user access to their personal music files in order to build the best DJ set possible can think of. With MAGIX's advanced mufin™ technology that allows for automatic playlist generation, and music matching, building a soundtrack to a party has never been easier.
Make a home computer a professional DJ machine
Digital DJ turns any user's home computer into a complete DJ system, with virtual mix decks, AutoMix, beat recognition, and the ability to preview tracks before they are played. Building a play list is simple, drag and drop the files directly into the playlist window, or import them from an iTunes® library. The AutoMix function lines up and creates a great sounding music mixes hands free.
mufin technology
Using mufin™ unique audio recognition and mathematical analysis, similar tracks can be automatically suggested, so the need for finding the next perfect song is eliminated. mufin™ saves valuable time by allowing users to build killer playlists in seconds and with a single click.
More innovative than any other DJ software – The integrated unique mufin technology actually helps users quickly select complimentary audio tracks, saving time by searching for new songs that perfectly match music selections with the innovative analysis provided by the mufin engine – all with a single click. With the AutoMix function, song transitions are handled automatically and seamlessly.
With the preview function users can quickly and easily test whether the automatically or manually selected audio file compliments the current song, and then can be integrated into the open set. The audience does not hear the beat matching of songs or the previewing of various effects- it is only outputted though the DJ's own headphones, letting the music flow from one perfect transition to the next.
Easy search functions
To help users to quickly orient themselves within large music collections made up of many albums, songs and remixes, the intuitive browser can quickly scan all music titles on the hard drive. Thanks to the quick search function, songs that best suit a set can be setup for a spur-of-the-moment switch without any difficulty.
iTunes® integration
Full iTunes® integration allows users to drag and drop playlist built in iTunes® directly into MAGIX Digital DJ, and with iTunes® view, users have access to their full iTunes® database, with identical layouts and lists. Files can be loaded directly onto the decks or onto an extended playlist with simple drag and drop functionality.
AutoMix – DJ? What DJ?
The integrated AutoMix function automatically plays all songs from one playlist, mixes the tracks with each other and delivers hours or perfectly mixed music – without any interventions by a DJ. The playlist can be played from start to finish or in shuffle mode. The duration of transitions can be set and altered at any time.
With its DJ style function, the AutoMix lets tracks seamlessly mix into each other on the beat. There are no pauses and the crowd can keep dancing, no one will even notice a break in the music.
MAGIX Digital DJ is designed to bring the party home, making it easy for users to break into the DJ field, impress friends and just have fun. Available for both MAC and Windows machines, this new software is guaranteed to liven up any party or event.
Highlights:

AutoMix mode: Even DJs need a break once in a while. No problem: simply activate the AutoMix mode and let the software take over. Fun guaranteed.
Two decks with great WAVE display and intuitive handling: Easily load songs in the following formats: MP3 (Id3v1&v2), WAV, and OGG
Loop & Leap: Create great effects with the easy-to-use loop and leap functions
Practical sync function: A single click is all it takes to synchronize songs with different BPMs
Peakscope: Intuitively align the beats of different tracks by using the mouse
3 Band EQ incl. 3 Band killer buttons: Master any EQ channel right away with a simple right-click: activate/deactivate bass, mid & treb channels in real-time too
Several other useful and practical features: Reverse, cue, tempo analysis, auto slave, auto sync, precise pitch control and more
64-bit DSP quality: High-quality processing guarantees DJ mixes with perfect sound.
Get a free 30 day trial here, or contact Adam Zarboni for an extended NFR copy.
###