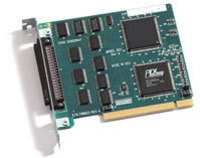 Portland, OR (PRWEB) February 18, 2010
Sensoray's Model 621 is a low cost solution to interfacing a large number of discrete logic signals to PCI computers. Its seventy-two I/O lines are software programmable as inputs or outputs in banks of eight lines.
Edge Detection
When enabled, sixty-four of the lines can detect logic state changes. The 621 may optionally generate an interrupt whenever state changes occur.
Synchronous I/O
Eight of the 72 I/O channels have special functionality. When programmed as inputs they may be used to latch input data upon command from an external strobe signal.
If these eight lines are programmed as outputs an external strobe signal can tri-state/enable the data outputs. For additional flexibility, the data direction of these special I/O lines are programmable in two 4-bit blocks.
External Relays
The 621 adapter may be connected to standard solid-state relay boards such as Sesnoray's model 720RB.
Prices start at just $195/ea, lower prices for OEM.
###