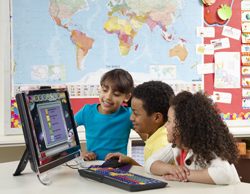 The most complete educational solution available for early learners, PreK–3rd grade"
Chester, PA (PRWEB) June 25, 2013
AWE announced today the availability of Version 10.0 of the Student Learning Center™ (PreK-1st) and Student Learning Center™ Elementary (K-3rd) digital learning solutions for young children.
AWE recognizes the importance of providing young children with a strong foundation in the core curricular areas and has enhanced the Student Learning Center™ (SLC) to uniquely support the combination of Prescriptive, Collaborative, and Explorative instructional methods. For educators struggling to keep students engaged while ensuring that common core standards are met, the SLC offers a means for teaching to all levels in the classroom. The Prescriptive, standards-based content features hundreds of assignable learning activities, embedded learning tutorial videos, and granular progress reporting.
AWE recognizes young children learn differently and the Student Learning Center actively supports Learning by Discovery. The pedagogical aims of Learning by Discovery are threefold: (1) promote "deep" learning, (2) promote meta-cognitive skills (develop problem-solving skills, creativity, etc.), and (3) promote student engagement.
Tracking, reporting, and student/class management capabilities are managed from the AWE Customer Portal. Teachers and administrators can access and monitor this information from anywhere on the Internet.
"The Student Learning Center (PreK-1st) and Student Learning Center Elementary (K-3rd) offer the most complete educational solutions available for early learners. No other product matches the depth and breadth of content across all subject areas, while supporting the most effective instructional methods," says Karl Thornton, president and CEO of AWE.
"The Student Learning Center enables schools to deliver personalized learning and is the perfect digital learning solution for the PreK-3rd blended-learning classroom. Students can work on the SLC independently, collaboratively with others, and with teachers in small group instruction. Students can learn at their own pace, which helps foster confidence and knowledge retention," states Michael Mok, VP of Sales for AWE. "The SLC products can also easily be attached to interactive whiteboards for full-class participation."
The Student Learning Center products offer an unparalleled collection of assignable digital content supporting a wide range of instructional initiatives including: Common Core, STEM and STEAM, Language Arts: "Learn to Read, Read to Learn," Intervention and Remediation, Gifted and Special Needs.
When asked about the Student Learning Center, Norman H. Thomas, Jr., Principal of Meadowview Elementary School in DeKalb County (Georgia), offered: "The AWE computers are very interactive and students love them. They present a different way to get a concept."
The Student Learning Center products are currently available in English and Bilingual Spanish on multiple platforms: all-in-one touchscreen, standard desktop, and mobile tablet (coming this summer).
About AWE, Inc. (http://www.awelearning.com)
AWE's mission is to Inspire every child to become a lifelong learner. AWE's engaging digital learning solutions support "In School" and "Out of School" learning and are found in public libraries, after school programs, child care centers, and in the home. They provide self-directed learning environments, feature content spanning all curricular areas, and can be personalized for every learner.