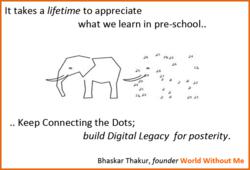 A user will now have two buckets in their Footprint – Personal and Social.
(PRWEB) January 18, 2012
Digital Estate Planning and Personal Data Preservation website World Without Me announced the launch of its new Digital Footprint features in January 2012. The new features will enable users to build their Digital Footprint in a simpler way.
The earlier version of the website had a collective Footprint section for all digital data. The website has been updated and now there are two buckets in the Footprint section – Personal and Social. The addition of this feature has made one's Footprint easier to build and more shareable than before.
When asked about the changes, Bhaskar Thakur, the founder of the website, said," Everyone might not necessarily want to share and pass on all aspects of their digital life to any one heir – maybe just parts of it. Keeping this in mind we have tried to make the Footprint section on our website more sharable as per the user's wish. A user will now have two buckets in their Footprint – Personal and Social. Personal Footprint will contain Emails and Documents the user uploads or send to his World Without Me account. Social Footprint will contain a user's Facebook updates and Tweets. This way they can segregate their Digital Footprint to be passed on to the right people. For instance, a spouse may inherit Personal Footprint while a friend may inherit Social Footprint."
With these changes, World Without Me allows users to curate and build their Digital Legacy as they like. It also provides flexibility in passing on one's digital assets to the right people.
About World Without Me
WorldWithoutMe.com is a Personal Data Preservation and Digital Afterlife service. World Without Me tools help curate Autobiography and Live Digitally Forever. On World Without Me users can:
1.Create Legacy and Autobiography on the go by archiving and curating Social and Digital Footprint (Facebook updates, Tweets, Documents, Emails).
2.Plan their Digital Afterlife and Live Digitally Forever. Assign inheritors for each asset in the Autobiography and Legacy. Send Dispatches for Future (lifetime and beyond).
3. Start and participate in Private Discussions.
Visit http://www.worldwithoutme.com to register with them.
###