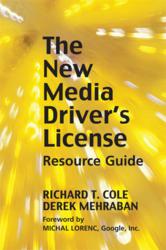 This new book has a permanent place on my desktop (the real one, not the virtual one).
(PRWEB) March 28, 2012
Ann Arbor-based digital marketer Derek Mehraban and Richard T. Cole, Advertising and Public Relations Professor at Michigan State University, announce a new book featuring a collection of 400+ resources on Digital Marketing and New Media.
Their new book, titled "The New Media Driver's License Resource Guide®," features key online resources from leading websites such as Mashable, Technorati, and Advertising Age. The book was recently published by Racom Books in Chicago and is available on Amazon.com. The book has a companion Link Listing of all its resources so you can follow along online at http://newmediadriverslicenseresources.com.
The new book is a comprehensive guide to the practice of digital marketing, where consumers have on-demand access to content at any time, anywhere, on any device. And where companies and individuals are constantly wired to interactive exchanges through web sites and apps such as Twitter, Facebook, and YouTube.
The 2012 New Media Driver's License® Resource Guide is perfect for marketing managers and business owners who want to learn social media, search engine optimization and mobile marketing to grow their business or non-profit organization.
As one Amazon.com reviewer stated, "This new book has a permanent place on my desktop (the real one, not the virtual one). I focused on the Guide's tips for expanding my presence on Facebook and Twitter and found links to many targeted resources that were new to me--and extremely valuable. There's a very thorough index, which I believe to be a must in any reference book. Thank you, Derek and Richard!"
The book itself was inspired by Michigan State University's New Media Driver's License® Seminar series. The class, known as ADV 420, has been a huge hit as an off-campus offering for MSU students, as well as for students and "lifelong learners" from other campuses.
In 2008, Dr. Richard T. Cole conceived the course while serving as chairman of MSU's Department of Advertising, Public Relations, and Retailing. He quickly brought on MSU alumnus and Social Media Agency CEO Derek Mehraban to develop course content and be the lead instructor of the course.
Co-author of the "New Media Driver's License® Resource Guide," Dr. Richard T. Cole is a recognized expert in PR, which he calls "public relationships." Cole owned his own public relations company and served as the press secretary and chief of staff to former Michigan governor James Blanchard. He also directed communications for America's largest nonprofit health plan and was chief administrative officer of a nine-hospital system. He is currently a full professor of public relations at Michigan State University, East Lansing.
Co-author and Social Media Agency CEO Derek Mehraban is a past winner of Crain's 40 under 40 award. Mehraban has enjoyed a successful career as a writer, strategist, salesman, and leader in the digital marketing space. Mehraban has taught the New Media Driver's License® course to over 1,000 Michigan State students over the past three years. He is a professional speaker and educator, avid blogger, and the executive director of a 501(c)3 Marketing Education non-profit called LA2M (Lunch Ann Arbor Marketing). Mehraban lives in Ann Arbor with his wife, Amy Pienta, a University of Michigan professor, and his two daughters, Abby and Lucy.
Derek Mehraban is speaking on the New Media book at LA2M on Wednesday, April 18. His talk titled "10 Digital Marketing Resources to Impact Business Success" will focus on resources from the 2012 guide book. LA2M is a lunch speaker series that meets every Wednesday at at noon at Conor O'Neill's, 318 South Main Street, Ann Arbor, MI.
To schedule Michigan based co-authors of the New Media Driver's License® Resource Guide Derek Mehraban or Richard T. Cole for a speaking engagement, or to inquire about social media training, visit http://ingenexdigital.com/contact-us or call 855-INGENEX.