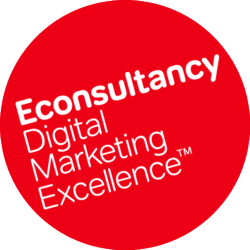 "It's a brave new digital world out there, and we're excited to be bringing new perspectives to the U.S. marketing community" Ashley Friedlein, CEO Econsultancy
New York (PRWEB) January 23, 2013
JUMP explores the notion of joined-up marketing and the intersection of where digital meets traditional marketing. The event looks ahead to the digitally- centric organization model which is fast becoming the new norm. JUMP will provide a forum for more than 750 forward-thinking, senior marketing strategists and practitioners to share experience and learnings of practical value in a fast-changing digital landscape.
New JUMP NY speakers include:

TejalPatel, Global Head of Social Commerce and Performance, Nokia
Paull Young, Director of Digital, charity:water
Billy May, VP, eCommerce, Digital and Marketing, Abercrombie & Fitch
Econsultancy CEO Ashley Friedlein says: "We look forward to seeing our friends and to a great line up of speakers, as well as some great new participants in New York on January 30th. It's a brave new digital world out there, and we're excited to be bringing new perspectives to the U.S. marketing community, and tapping into a wealth of experience from the pinnacle of global business." (View Friedlein's predictions for 2013 here: http://vimeo.com/44315307)
Speakers presenting include: Christy Amador, Global Digital Marketing Manager, The Coca-Cola Company; Venky Balakrishnan, VP, Global Marketing, Diageo; David Rogers, Executive Director, Columbia Business School Brand Center and Jerry Hill, SVP Circulation, Gannett Publishing, among many others.
JUMP partners include the DMA, Audit Bureau of Circulations, shop.org, MENG, the Society of Digital Agencies (SoDA) and Columbia Business School's Center for Global Brand Leadership. Partners all contribute content and host sessions throughout the day.
For a full list of speakers visit:
http://econsultancy.com/jump/new-york/agenda/speakers
For more information contact:
Ryan Sommer, Content Marketing Executive, Econsultancy
ryan(dot)sommer(at)econsultancy(dot)com +44 (0) 207 269 1467
@RyanSommerHQ
John Gibb, Director of Marketing-US, Econsultancy
john(dot)gibb(at)Econsultancy(dot)com +212 971 0630
Nancy Prendergast or Mimi Brown, Tannissan Mae Communications
nancy(at)tannissanmae(dot)com or mimi(at)tannissanmae(dot)com +44 (0) 207 243-4440
About Econsultancy
Econsultancy is the world's leading digital marketing community and a critical source of insight and intelligence as well as practical, actionable know-how for marketers in a world being reshaped by digital.
Econsultancy provides independent research, consultancy services, and worldwide events and training for its more than 180,000 members. It has offices in London, New York, Sydney, Singapore and Dubai. Econsultancy was acquired by Centaur Media plc in July 2012.
Web: http://econsultancy.com
Twitter: http://twitter.com/econsultancy