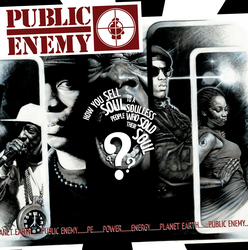 25 Most Significant Albums of the Last Century
Atlanta, GA (PRWEB) August 13, 2007
INTENT MediaWorks, Inc. (http://www.intentmediaworks.com), a digital media distribution company, and SlamJamz Records (http://www.slamjamz.com), one of the most innovative record labels in the music industry, today announced that INTENT will release Public Enemy's new 20th Anniversary album, How to Sell Your Soul To A Soulless People Who Sold Their Soul, to peer-to-peer (P2P) file-sharing networks for free, which immediately follows the physical release of the album earlier this week. Starting today, Internet users will be able to download any of the tracks from the album free of charge in P2P, in exchange for viewing brief ads associated with the files.
INTENT MediaWorks' ad-supported model enables consumers to get high-quality, legal copies of album tracks for free, while creating new revenue streams for artists and labels. SlamJamz Records has partnered with INTENT MediaWorks since 2006, making it a good partner to manage some aspects of digital media distribution for Public Enemy's new album, which marks their 20th anniversary.
"Public Enemy consistently leads the music industry with our innovation and by embracing new technologies," said Chuck D, front man of Public Enemy and founder of SlamJamz Records. "We continue to look for new ways to satisfy our fans, and P2P is the largest international fan base on the Internet. Providing free and legal tracks for our fans is great for everyone."
INTENT MediaWorks will help Public Enemy distribute high-quality digital media files via P2P networks, using its proprietary technology for distribution management. INTENT will be able to deliver downloads and serve advertising content for users across P2P platforms, but also through websites, social networks, mobile, and other channels - as consumers share their downloaded files with friends and other Internet users.
"There are over 300 million P2P users in the world, and we know that PE's new album will be uploaded onto countless unauthorized file-sharing systems as soon as it goes on sale," says SlamJamz President/General Manager Dan Lugo. "Rather than creating a model to get out in front of the technology, for far too long the entertainment industry has chosen to react to the P2P phenomenon that will only continue growing in the future and not go away. At SlamJamz, we believe that it is smart business to satisfy the needs of our P2P fans, while creating a responsible revenue model to benefit our artists and composers."
INTENT enables clients like SlamJamz to manage the integrity and consistency of their brand across multiple Internet channels, rather than being limited or restricted within a specific marketplace. Content owners are able to determine how content is presented, what keywords are associated with their files, or what advertising or promotions are served with the content -- all in one place.
"Our partnership with INTENT empowers us with the ability to give the album to the P2P fans out there at the highest level of quality, so they can get the best possible recordings, not something that's been posted by a random fan with limited technology," adds Lugo. Public Enemy has always been a major supporter of free music on the Internet and embraces their P2P fans."
Public Enemy (PE) is accurately credited with changing the Internet's music distribution capability by being the first major artist to release an entire album in the MP3 format in 1999, a music file practically unknown by the general public at that time. PE front man Chuck D has continuously been a driving force behind the digital media revolution, leading up to this summer's launch of the group's 20th anniversary album.
 
"There is no question that Public Enemy is one of the most significant groups to come out of the music industry during the past 20 years," said Les Ottolenghi, co-founder and president, INTENT MediaWorks. "What's most impressive about Public Enemy is their ability to recognize emerging trends, and capitalize on new innovations in technology to remain at the forefront decade after decade. We're excited to help mark this chapter in the group's history by supporting the launch of their 20th Anniversary Album -- sure to be another huge hit."
The group burst onto both the rap and pop music world in 1987 with their first single, "Public Enemy #1," a startling combination of Chuck D's commanding orations and Flavor Flav's show-stopping antics keeping the message entertaining. The song is not only known for introducing a whole new sound to the rap genre, but for giving the group their name. At the close of 1999, The New York Times named Public Enemy's music to their list of the "25 Most Significant Albums of the Last Century" and in May 2005 The United States Library of Congress included Fear of a Black Planet in a list of 50 recordings worthy of preserving in the National Recording Registry.
Rolling Stone magazine called the group one of its 50 Greatest Artists of All Time, Vanity Fair profiled the group in their Icons of Rock special section in 1999, and Spin magazine chose two PE albums for their 100 Greatest Albums (1985-2005) list with It Takes A Nation of Millions to Hold Us Back coming in at #2 and "Fear of a Black Planet" at #21.
About SlamJamz Records:
SlamJamz was founded in 1996 by Public Enemy frontman Chuck D as a vehicle to spread both hip-hop and new urban music in what he calls "all the fertile territories that exist around the world today." At present, SlamJamz's roster includes 12 artists, each carefully selected for their own unique and individual characteristics. SlamJamz works with artists to ensure they retain the rights to their works, and allows for them to own the master copies of their recordings as well as their own publishing rights - just a few of the qualities that have made SlamJamz a pioneer in indie and digital distribution since its inception. For more information on SlamJamz, please visit http://www.slamjamz.com.
About INTENT MediaWorks:
INTENT MediaWorks is a leading distributor of digital media and advertising via P2P file-sharing networks and other popular Internet channels. INTENT enables owners and distributors of media content to safely manage and monetize content across all digital channels, while providing unique advertising and branding opportunities for both content owners and online marketers. INTENT currently manages a catalog of more than 3 million unique digital media files, serving an average of 1 million legal file downloads per day in P2P. For more information on INTENT, please visit http://www.intentmediaworks.com.
###