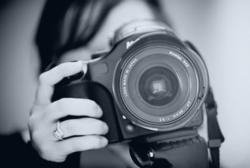 Our course has been especially written by professional photographers, industry practitioners and highly qualified academics for online delivery.
UK (PRWEB) January 19, 2012
The UK's leading provider of online qualifications in Art & Design, the Interactive Design Institute, is launching an innovative, online photography course for students who may be considering undertaking a degree in photography but who want to master their digital camera first.
"The mystique that surrounds the digital SLR camera can be daunting " says Michael Stewart, director at the Interactive Design Institute. "At IDI we realise that many people are attracted to the idea of gaining a qualification in digital photography but are reluctant to commit to a full degree course without mastering the basics of their digital camera first".
Consequently, IDI's new digital photography module - http://www.idesigni.co.uk/courses/new-courses/digital-photography has been specifically developed by the Institute for those who wish to gain knowledge of the subject without embarrassment; unfamiliar technical terms and what seem to be complex processes put off many potential photographers even before they pick up a camera.
"Understanding the equipment and having the knowledge and skills to maximise the use of a digital SLR are crucial skills but they need not be difficult to master. Photography can be fun and fulfilling and this course is the starting point for an enjoyable and rewarding experience" continues Stewart.
The course begins by covering the functions, settings and applications the student will be using before developing their skills through practical, step by step projects and activities.
The Interactive Design Institute course provides their students with the knowledge to understand and use:

Different shutter speeds and apertures
Depth of Field
A variety of ISO settings
Pixels and resolution
Exposure metering
Multi point focussing systems
Histograms
JPEG & RAW file formats
LCD software
The course is organised as a clear, concise, step by step programme. Each and every stage is supported by a dedicated tutor who will provide advice, guidance and assistance in addition to detailed feedback and assessment.
"Additionally, if you wish to continue with your studies, successful completion of this course could count towards the first level of the Dip HE in Photography" says Stewart, "and if you do choose this progression route, you would be eligible for a discount off you're your fees for the first level of study. So whether you are a complete novice or you've had previous experience with analogue or basic digital cameras, you will benefit from this comprehensive, practical course".
The digital photography course can be taken over one or two semesters and consists of 15 hours of teaching over 12 weeks if taken in a single semester or 7.5 hours of teaching over 24 weeks if taken in two semesters. This structure ensures that the student has enough time to devote to the real purpose of the course – taking photographs.
Michael Stewart, director of IDI continues, "Our course has been especially written by professional photographers, industry practitioners and highly qualified academics for online delivery. Our course is specifically designed to provide our students with all the tools and skills they need to become competent photographers".
The digital photography course is priced competitively at £800 for a comprehensive 12 weeks of study and the Institute offers a variety of payment plans for prospective students.
IDI are currently enrolling students for their February 2012 intake and expect demand for places to be huge, particularly as places at on similar attendance based courses in the UK are limited.
Fiona Crosbie, Director of Admissions at IDI concludes, "We have received a significant number of enquiries for this course and early enrolments from students anxious to secure their place; students who see the advantages of studying online. They realise that online education is the flexible, affordable alternative to attending university or college and many choose to work and earn while they study with the Interactive Design Institute. "
###