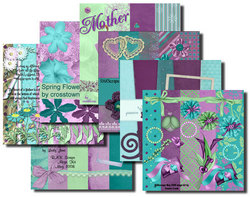 Make Millions Selling on QVC: Insider Secrets to Lauching Your Product and Transforming Your Business and Life Forever
Basking Ridge, NJ (PRWEB) May 23, 2008
Scrapwow.com, a Playground for Digital Scrapbookers, announced the acquisition of popular digital scrapbooking community RAKScraps.com.
RAK, which stands for- Random Acts of Kindness, is a free community Website dedicated to digital scrapbooking. With over 34,000 active members, RAKScraps.com is the originator of free digital scrapbooking and the FREE Monthly Mega-Kit, a one-of-a-kind Digital Scrapbooking kit filled with coordinating papers and elements that community members download to their computers and use to create scrapbook pages that can be printed or used to display on personal computers or shared with family and friends in online photo galleries.
Founded in November of 2004 by Jeanine Baechtold, RAKScraps was created with the goal of welcoming everyone with open arms while providing incentives to make it easy for people to record their memories with no strings or judgements attached.
Today, RAK has something for all levels from beginners to advanced scrapbookers. Jeanine, whom recently decided to pursue designer opportunities fulltime comments, "Nick administers his own popular website, Scrapwow.com, using the same principles and ideals that are the foundation for RAKScraps.com. This makes him the perfect choice to continue fostering the community spirit of RAKScraps, reach out to more individuals, and allow the site to grow and evolve," says Baechtold.
The two sites offer a sisterly complement to one another. RAKScraps has a public environment while Scrapwow supports its members with private personal web sites that have a scrapbook-look. By joining together, each site has something to offer the members of the other site. "More and more traditional paper scrapbooking enthusiasts are going digital, says Nick Romer, founder and CEO of ScrapWow.com. Digital Scrapbooking has been on a steady rise since 2005. The merging of these two sites will bring even more digital scrapbooking enthusiasts together to receive an "abundance" of free digital scrapbooking kits and elements.
Brief on Scrapwow.com:
Scrapwow is the only site of its kind to offer members the ability to share their photos on personal and private websites that have a scrapbook-look. Known as the ultimate digital scrapbooking playground, and The source for beginning, intermediate and advanced online scrappers and memory making enthusiasts, ScrapWow.com offers top of the line photo sharing, digital scrapbooking kits, digital scrapbooking freebies, scrapbooking tutorials, sample scrapbooking layouts, digital scrapbooking tutorials, and up-to-date trend-focused bonus features.
Brief on ScrapWow.com Founder Nick Romer:
Nick Romer is the founder of Scrapwow.com and owner of GreenSneakers.com. He is the inventor of the patented Kreate-a-lope® Envelope Maker and over a hundred products for the paper craft industry. Award winning inventor of Primedia's Award of Excellence, HIA Buyer's Choice Award, and QVC's Million Dollar Sales Award, Romer is one of the longest running craft personalities on QVC and is a Best Selling Author of the recently released book- "Make Millions Selling on QVC: Insider Secrets to Lauching Your Product and Transforming Your Business and Life Forever".
Press Contact:
Starr Hall
Publicist/Branding Agent
2 Point Media LLC
Phone & Fax - 888.942.5599
Email- Starr @ 2pointmedia.com
###