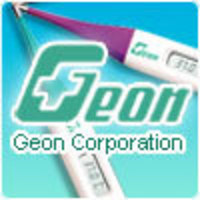 Our products are all proudly manufactured in Taiwan, so that we can promise top quality and control
(PRWEB) January 25, 2008
As part of a strong commitment to "constant innovation," Geon successfully developed both a digital ear thermometer and a forehead thermometer this year. These products are going to be launched in market in 2008. Geon ear and forehead thermometers provide a safer, more convenient and more humane method to measure body temperature. More steady function and design mean these products are not easily affected by the environment temperature.
This project definitely offers more choice on the medical device and equipment market, it also shows Geon's strong commitment to developing new technology.
Geon turned itself into a digital thermometer manufacturer in 1995, its main ideas of great humane function and lively design has been well received in global market. Up to present, Geon has served OEM and ODM applicants worldwide include Europe, South Asia, Middle East and America.
"Our products are all proudly manufactured in Taiwan, so that we can promise top quality and control," Geon General Manager Henry Chen said.
To reach an annual capacity of 2.5 million high quality digital fever thermometers, Geon never compromises quality control. Its factory has received ISO9001, ISO13485:2003 and GMP certification. They boast long-standing relationships with upstream suppliers and specialist subcontractors for mold design and plastic injection, Geon integrates professional technical supports to ensure efficient workflow and quality.
Geon is not only responsible for accurate assembly procedures, but the company also adheres to stringent quality inspection at every stage of process flow. All material pass chemical tests for human safety; flaw and accuracy detection is carried out on half-finished products piece by piece. Moreover, overall inspection includes accuracy; a water-proof test is conducted at finishing. Geon insists on a final check before delivery and extra inspections also can be done upon customers' special request.
Geon products have achieved CE approval, FDA 510(K), 93/42/EEC, IEC60601-1, IEC60601-1-2, EN 12470-3:2000, ASTME1112:98 standards. Geon digital thermometers are available in rigid and flexible types with an operating range of 10°C~35°C, their measurement range is up to 32.0°C~43.0°C. They also deliver ±0.1°C between 35.5°C and 42.0°C at ambient air temperatures of 18°C to 28°C. Great features such as a beeper, storing memory, fever alarm, waterproof, automatic switch off, low battery indication are built-in.
In particular, 20 seconds digital thermometers are proudly developed by Geon, as well as 60 seconds digital thermometer, a good option in market. Geon continues to obtain international patents, which provides strong trust and protection in products with customers.
In the fact of rapid growth in medical and healthcare device market, Geon has formed its own R&D team to devote in advance technology innovation and product function enhancement. In addition to increasing the level of knowledge, Geon keeps a good connection with Industrial Technology Research Institute (ITRI), Taiwan top grade non-profit R&D organization engaging in applied research and technical service. Geon is planning to make a wide range of medical diagnostic kits in the future.
Making the most of prompt response, Geon technical support engineers and customer service team are taking care of customers' inquiries. Both teams offer in-time troubleshooting. Geon's flexible working schedule can meet a customer's special delivery date.
###