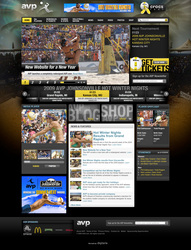 Our partnership with Digitaria has been very beneficial for our organization
San Diego, CA (PRWEB) January 26, 2009
Digitaria, a leading digital marketing and technology firm, today announced the launch of Digitaria Sports, a new division devoted exclusively to partnering with sports organizations worldwide to develop world class online fan destinations and communities.
As part of the launch, Digitaria Sports announced AVP Pro Beach Volleyball, Inc., as a new client. Digitaria will help drive the organization's digital strategy, including launching a new online destination to engage, inform and entertain beach volleyball fans. Digitaria is responsible for the overall design, development, and implementation of the AVP digital platform.
The new AVP Web site, the first phase of which launched last Friday, boasts real-time content, breaking news, rich video content, live statistics, fantasy games and a new online store.
"Digitaria has a proven track record in the industry, and we're excited to be working with them to launch the next generation of AVP.com," said Al Lau, vice president of new media for AVP. "We look forward to leveraging their creative, marketing and technology expertise on an ongoing basis to better engage our fans worldwide."
With more than 20 major sports clients, Digitaria is one of the few independent digital marketing and technology firms to launch a division devoted exclusively to sports and sports-related organizations. Select clients include the Atlanta Falcons, Baltimore Ravens, International Speedway Corp., NFL Europe, and the Seattle Sounders FC (Major League Soccer's newest franchise).
"Centralizing our sports marketing expertise within Digitaria will enable us to drive innovation and provide better client services," said John Van Spyk, vice president of Digitaria Sports. "This is an exciting initiative that truly sets us apart within the industry. We look forward to helping major sports organizations around the globe build premiere online destinations that connect fans and franchises like never before."
Digitaria Sports currently has multiple clients in major US professional sports, including football, soccer, motorsports, volleyball, tennis and more. Van Spyk said the new division will extend its focus to include extreme sports, international sports and organizations affiliated with sports, such as sponsors and partners.
Van Spyk attributed Digitaria's success within the industry to several factors, including having a clear understanding of its clients' business goals; strong client relationships; a deep commitment to customer service; and years of real-world experience working with some of the largest sports brands in the world.
Digitaria provides all facets of a digital marketing and strategy, including creating compelling online destinations. These sites typically integrate stunning creative with best-of-breed technology solutions to drive fan loyalty and increase the sales of tickets, merchandise and sponsorships. Digitaria's technology solutions and partnership cover social media, web analytics, content management, content delivery, digital distribution, ad serving, and more.
"Our partnership with Digitaria has been very beneficial for our organization," said Dan Levak, director of new media for the NFL Atlanta Falcons. "We know we are in good hands with John and his team - they are on the cutting edge of digital media and innovation. This type of specialization will not only benefit us as clients, but help evolve the digital sports marketing industry as well."
In addition to sports, Digitaria serves major brands in media and entertainment, technology and communication, consumer goods, healthcare and life sciences, travel and hospitality, and non-profit.
About Digitaria
Digitaria is a leading digital marketing and technology firm headquartered in San Diego with additional offices in Los Angeles and New York. Since 1997, Digitaria has consistently led the field in creating digital experiences online through Web sites, intranets, extranets, digital asset management, interactive marketing campaigns and business solutions that are both measurable and memorable. Digitaria represents many of the largest brands in the world. Active clients include Atlanta Falcons, ASICS Shoes, Best Western International, CBS Corporation, Cobra Golf, Comcast Corporation, FOX Corporation, Gateway Corporation, Gordon Rush, Hasbro, Inc., KCET Hollywood, NBC Universal, QUALCOMM, Inc., Warner Bros. Worldwide Television Marketing, WPT Enterprises, Inc. and many others.
Digitaria believes strongly in the power of collaboration and strategic thinking and often integrates internal teams with the talented staff of its clients to ensure all stakeholders contribute to the success of the engagement. For additional information, please visit http://www.digitaria.com.
###