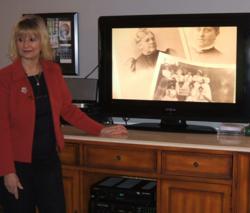 After Christine scanned my pictures I was so relieved. But, when she turned them into a talking photo slideshow, I realized I had a priceless family treasure in my possession.
Knoxville, TN (PRWEB) January 24, 2013
Christine Cormier, owner of Knoxville-based 'Christine's Digitize and More', started her photo scanning business after discovering her most treasured memories were being outsourced to Pakistan to be digitized.
"My family photos are very personal," Christine comments. "I felt uncomfortable leaving them with people I didn't know at the counter, even locally. But then I learned that the big stores were sending them to India or Pakistan."
Christine's business relies on personal relationships with families, groups and businesses that realize their photos are more than fading images in albums, but a recorded personal history of defining moments and milestone events.
Not only does she personally manage the digitization process, keeping all work in-house, but depending on the job, Christine brings her high-speed photo scanner to her customers so the photos never leave the home at all.
After preserving the photos on archival DVDs, the "More" of "DigitizeandMore.com" comes in to play.
"As a Certified Legacy Advisor, I help people organize and cull through mountains of their pictures to choose the ones that matter most. The ones that can leave a legacy," Christine continues, "I tell people it's not about how many photos we remember but more about the ones we are remembered by."
And her customers love what can become of their digitized photos. Joyce Benzinger recently took advantage of Christine's legacy services to create a series of talking photos, identifying people in her old pictures that may as well be strangers to her grandchildren.
"After Christine scanned my pictures I was so relieved," says Benzinger. "But, when she turned them into talking photos I realized I had a priceless family treasure in my possession. It's an amazing gift."
"I didn't realize the impact my early photos could have on my family," said Knoxville resident, Anne Donahoe. "The more they heard my talking photos the more they wanted to learn. It felt wonderful to play such a vital role in my family."
Because the business is technology-driven, Christine serves families all across the United States. Although she puts heavy emphasis on legacy photos she also digitizes vintage audio recordings and VHS home movies for exactly the same reason.
"When reel-to-reel and cassette tape recorders became popular, people started recording musical recitals, Christmas mornings, birthdays and singing," Christine says. "These are priceless recordings that are deteriorating beyond repair. The same is happening to irreplaceable VHS home movies too."
'Christine's Digitize and More' does exactly what it says, personalized photo scanning and media digitization, plus all things legacy and family history. What are you waiting for? Call Christine today before your living history fades away for good.
ABOUT CHRISTINE CORMIER
Christine is a personal historian and Founding Ambassador for the Living Legacy Project, a global initiative to save the living history of the 20th century. She conducts free legacy workshops and is available to speak to your group.
She offers the "Legacy Matters New Resident Welcome & Transition Program' to senior living and care communities. Additionally, she teaches genealogists how to connect legacy stories to over 3.5 billion ancestor records in the family tree of humankind. To archive and share your legacy stories create a free account in http://www.LegacyStories.Org.
Contact Christine Cormier: 423-295-5201 or christinecormier10 (at) gmail (dot) com