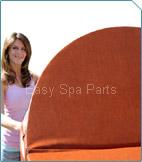 We created a video channel devoted strictly to educating consumers on what to look for when selecting Dimension One Spa Covers
Oceanside, CA (PRWEB) June 27, 2013
Easy Spa Parts, a Dimension One Spa Cover online retailer selling hot tub spa parts for Dimension One Spas and D1 Hot Tubs, has recently created a video channel devoted strictly to educating consumers on what to look for when selecting hot tub replacement covers. The Dimension One Spa Cover Video channel contains multiple videos.
"A Replacement Spa Cover is an important investment," said Phil Sandner, President of Easy Spa Parts located in San Diego, CA. "Buying a quality hot tub cover is critical to protecting your spa from dirt, dust and inclement weather in addition to sealing in the heat and keeping energy bills as low as possible," continued Sandner.
"Extreme weather conditions and continued exposure to the sun will over time create the need for hot tub and spa covers to be replaced every 5-7 years," said Sandner. "In order to help consumers understand what to look for before they buy, we created 14 short videos detailing all the important things consumers should look for and why they are important," commented Sandner. "Because the hot tub itself is such a large investment, it is recommended that consumers get the best quality hot tub cover they can afford so their hot tub lasts as long as possible."
"Each video is about 30 seconds long and covers important aspects of spa cover design including: full length heat seals, foam density, ergonomic design, hinge protectors and much more. We continue to offer the best quality, price and service for spa cover replacements, but we're always looking for products, new designs and services that help our clients," commented Sandner. The Dimension One Spa Cover Video Channel contains multiple videos.
Consumers can view all the videos by going to: http://www.youtube.com/DimensionOneSpaCover
"Easy Spa Parts sells Sunstar Spa Covers. Sunstar, a manufacturer known for quality for over 30 years, provides both high quality and affordability in one cover. Sunstar also meets the ASTM safety standard for pool and spa and hot tub covers, and has been independently tested and UL Certified," continued Sandner.
According to Sandner, hot tub owners looking for a spa cover replacement can now visit the Easy Spa Parts website and select their cover in 4 simplified steps, just by entering their dimensions and color choices. In addition, buyers are also able to add options and upgrades if they so desire. Customers can now purchase replacement spa covers, 24/7 using the new "point and click system".
Consumers wanting to learn more or get an instant online price for a new hot tub or spa cover are encouraged to visit the company website for more information. The website address is http://www.EasySpaParts.com.
About Easy Spa Parts
Easy Spa Parts is a full service hot tub parts and accessories specializing in Dimension One Spas. Our knowledgeable staff has 60+ years of combined experience and can easily help you troubleshoot and repair most spa related issues. It's expertise you can trust and we are just a phone call away. We've built our business and our reputation by providing solutions, one spa at a time.
How are we different? We're not just spa parts experts. We've learned the importance of providing exceptional customer service. In addition to our live customer service team available 6 days a week, we also provide informative videos, step-by-step tutorials and printable maintenance tips available 24 hours a day, 7 days a week.
We continually work to exceed your highest expectations - even in the face of the most challenging conditions. It's that dedication and attention to detail that keeps us a cut above the rest. We invite you to browse our site and hope you find everything you need to make your spa experience the best it can be. From our family to yours - here's to another enjoyable day with the spa!
To learn more, pick up a copy of our free report "Clean Water Made Easy - How to Keep Your Spa Water Crystal Clear." Just give us a call at 866-418-1840 or go to http://www.EasySpaParts.com.