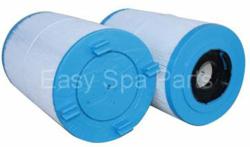 One of the most common questions we hear is about the low flow message which is often caused by a "bargin brand" filter.
Oceanside, CA (PRWEB) May 28, 2013
Easy Spa Parts, a Dimension One Hot Tubs Parts online retailer selling replacement spa parts for Dimension One Spas and D1 Hot Tubs, has recently added additional inventory of factory authorized Dimension One Spa Filters to improve customer satisfaction and minimize water flow issues caused by inferior spa filters. The company based out of San Diego has sold thousands of these high quality filters over the years and has concluded that they are superior in performance to other types and brands on the market today.
"One of the most common questions we hear is about the low flow message," said Phil Sandner, President of Easy Spa Parts located in San Diego, CA. "The problem is often caused by a dirty filter or in many cases a "bargain brand" filter whose design is restricting water flow. In this case, just replacing the filter with a factory authorized filter can help."
To confirm his suspicion, Sandner conducted an experiment which he describes in his own words.
"I received a call from a customer one day who told me he could purchase spa filters from a competitor at a lower price. Well, we lost the sale and I purchased one myself just to check things out. When the filter arrived, I installed it and forgot about it.
One day I noticed there was a "Flow" message on my spa's upper control. The bubbles would start, run a while, stop, start again. At the same time, I noticed the circulation pump seemed to be running, but was sometimes starved for water.
Our service tech came by one day, so I asked him to look at the problem. "Is this a factory filter," he asked. "Of course, I would never use anything else," I replied. We removed it from the spa and quickly noticed four things.
1. It was the "Bargain Filter" I had purchased earlier.
2. The "Flow" message went away and the circulation pump went back to operating normally.
3. The inside core on the "Bargain Filter" was different from the factory design and had starved the circulation pump of adequate flow. At some point this condition would have caused the pump to burn out. That "Bargain Filter" would have caused me to buy a new circulation pump costing 10 times the amount we saved on the cheaper filter.
4. The 'Bargain Filter" was heavier than the factory model. The extra pleats were reducing water flow that could cause a "Flow" message and ruin the circulation pump too."
Consumers wanting to learn more are encouraged to visit the company website or call to speak to one of the company's Dimension One Spa Parts experts for more information. The company can be reached by calling 866-418-1840 or by visiting http://www.EasySpaParts.com
About Easy Spa Parts
Easy Spa Parts is a full service hot tub parts and accessories specializing in Dimension One Spas. Our knowledgeable staff has 60+ years of combined experience, and can easily help you troubleshoot and repair most spa related issues. It's expertise you can trust and we are just a phone call away. We've built our business and our reputation by providing solutions, one spa at a time.
How are we different? We're not just spa parts experts. We've learned the importance of providing exceptional customer service. In addition to our live customer service team available six days a week, we also provide informative videos, step-by-step tutorials and printable maintenance tips available 24 hours a day, seven days a week.
We continually work to exceed your highest expectations - even in the face of the most challenging conditions. It's that dedication and attention to detail that keeps us a cut above the rest. We invite you to browse our site and hope you find everything you need to make your spa experience the best it can be. From our family to yours - here's to another enjoyable day with the spa!
To learn more, pick up a copy of our free report "Clean Water Made Easy - How to Keep Your Spa Water Crystal Clear." Just give us a call at 866-418-1840 or go to http://www.EasySpaParts.com.