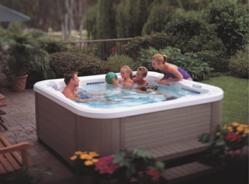 One of the most common questions we hear is why isn't my spa heating? The problem is often caused by a low flow error. Watch the video to learn how to correct
Oceanside, CA (PRWEB) April 30, 2013
Easy Spa Parts, a Dimension One Hot Tubs Parts online retailer selling replacement spa parts for Dimension One Spas and D1 Hot Tubs has re-released yet another helpful video for owners of Dimension One Spas. The company based out of San Diego has created dozens of videos over the years in an effort to make hot tub maintenance easy for people who own D1 spas
"One of the most common questions we hear is why isn't my spa heating," said Phil Sandner, President of Easy Spa Parts located in San Diego, CA. "The problem is often caused by a low flow error and this quick video will help with a few simple things owners can try on their own for Dimension One Spas manufactured since1997."
Here are 4 simple steps that Dimension One Spa owners can take to resolve this issue. Spa owners can also watch the Dimension One Spas Low Flow Message video by clicking here.
1. The water level should be in about the middle of the tile line, or 6" from the top of the shell, if you don't have tile. Water that's too high or low, will affect flow through the heater, and prevent the heater from operating.
2. Old or dirty filters can also affect water flow, so take them out and clean them. Before re-installing, check the control panel to see if the error message has gone away. If it has, you've solved your problem. Now re-install the cleaned filters, if the flow message returns, you'll new need new filters.
3. Look at the bottom of the spa for your normal, steady stream of air bubbles. This indicates a properly operating circulation pump. If you just re-filled your spa, and don't see any bubbles, go to the How To section of our website and try purging the airlock.
4. Otherwise, put your hand on the metal portion of the circulation pump. If it's hot to the touch, the pump has burnt out and must be replaced.
If this fixes the problem, the spa will be heating again.
Consumers wanting to learn more are encouraged to visit the company website or call to speak to one of the company's Dimension One Spa Parts experts for more information. The company can be reached by calling 866-418-1840 or by visiting http://www.easyspaparts.com/howto.aspx
About Easy Spa Parts
Easy Spa Parts is a full service hot tub parts and accessories specializing in Dimension One Spas.
Our knowledgeable staff has 60+ years of combined experience, and can easily help you troubleshoot and repair most spa related issues. It's expertise you can trust and we are just a phone call away. We've built our business and our reputation by providing solutions, one spa at a time.
How are we different? We're not just spa parts experts. We've learned the importance of providing exceptional customer service. In addition to our live customer service team available 6 days a week, we also provide informative videos, step-by-step tutorials and printable maintenance tips available 24 hours a day, 7 days a week.
We continually work to exceed your highest expectations - even in the face of the most challenging conditions. It's that dedication and attention to detail that keeps us a cut above the rest. We invite you to browse our site and hope you find everything you need to make your spa experience the best it can be. From our family to yours - here's to another enjoyable day with the spa!
To learn more, pick up a copy of our free report "Clean Water Made Easy - How to Keep Your Spa Water Crystal Clear." Just give us a call at 866-418-1840 or go to http://www.EasySpaParts.com