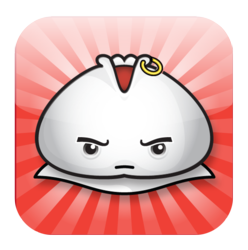 Dim Sum Warriors is a wacky martial arts adventure comedy whose characters are shrimp dumplings, steamed pork buns and other Chinese delicacies known as 'dim sum' in Cantonese or 'dian xin' (点心) in Mandarin.
Flushing, NY (PRWEB) April 10, 2012
Dim Sum Warriors 点心侠, a new bilingual digital comic book series about kung-fu fighting Chinese snacks, has just been launched as a free iPad Application.
The interactive comic, which is colorfully illustrated and has voice-overs in Mandarin Chinese and English, addresses a growing interest worldwide in learning Chinese and English. It is now available in the App Store in over 50 countries.
Dim Sum Warriors is a wacky martial arts adventure comedy whose characters are shrimp dumplings, steamed pork buns and other Chinese delicacies known as 'dim sum' in Cantonese or 'dian xin' (点心) in Mandarin. The protagonist is Prince Roast Pork Bao, the pampered heir to the throne who unwittingly stumbles on a secret plot to usurp the kingdom, which soon pits the four Dim Sum Warrior clans – the Fried Kung Academy, the Boiled Kung Temple, the Baked Kung Sisterhood and the School of Steam Kung – against each other. 
The series was created by Colin Goh and Yen Yen Woo, a husband-and-wife creative team that has also directed award-winning movies. Their last feature film, Singapore Dreaming, was screened at the Smithsonian Institution in Washington D.C. and Brooklyn Museum of Art in New York, and has won awards including the Best Asian Film Award at the Tokyo International Film Festival and the Montblanc New Screenwriters Award at the San Sebastian International Film Festival.
"With the iPad, readers can enjoy Dim Sum Warriors as a traditional comic, and also benefit from its extra educational functions," says Dr. Woo, an Associate Professor at Long Island University's College of Education and Information Sciences, where she teaches curriculum design, theory and history. Using her experience as an educator and designer of educational software, she crafted the various features of the Dim Sum Warriors App, such as instant translations from English to Chinese and vice versa, as well as text and audio pronunciation guides.
"One of the trickiest things about learning a new language is finding reading material with the right level of difficulty, so that readers are sufficiently challenged, but not enough to be discouraged. The Dim Sum Warriors app is designed so that readers with different levels of language ability can find suitable entry points into the text," Dr. Woo explains. "We also didn't want to publish some dull language textbook. Dim Sum Warriors has a story with compelling characters and an exciting plot, and it's told in that most American of forms - a comic book."
Dim Sum Warriors reflects the international and multicultural backgrounds of its creators, who were born in Singapore and have lived in New York City for over 14 years. "We grew up with Spider-Man, Superman, Archie and other all-American comics, as well as Asian titles like Old Master Q, Heaven Sword & Dragon Sabre and Dragon Ball," says co-creator Colin Goh, a former attorney with qualifications in England, Singapore and New York. "Crossing cultures and languages is in our blood." So far, the response has been very encouraging. Chris Claremont, the award-winning American comic book writer and novelist, best known for writing Marvel's Uncanny X-Men, has called Dim Sum Warriors "sodding brilliant!"
Partnering Woo and Goh in developing the App is TWP America, an international publishing solutions company that has worked with publishers such as Scholastic and Random House. "Publishing Dim Sum Warriors as an app offers something no other form offers currently-immediate worldwide distribution. We are excited to be collaborating with Yen Yen and Colin on this bold experiment in digital publishing" says Managing Director Yoichi Sanada.
The Dim Sum Warriors 点心侠 iPad App can be downloaded for free from the App Store with two free issues of the comic. Single issues are on sale at $2.99. For a limited period, until April 30, 2012, a 6-month, 6-issue subscription of Dim Sum Warriors is on sale at $9.99.