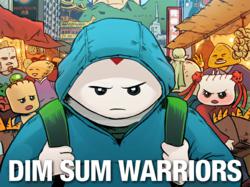 we've conceptualized Dim Sum Warriors as a complete experience, with the App, eBooks and printed book all complementing each other
Flushing, Queens (PRWEB) October 30, 2012
Dim Sum Warriors, the bilingual iPad comic series about kung-fu fighting Chinese snacks, is launching a Kickstarter campaign today to raise funds to publish a print collection of its first 6 issues. For the 21 days of the Kickstarter campaign, its creators, Yen Yen Woo and Colin Goh, are giving away every episode of the Dim Sum Warriors iPad app, as well as its new Kindle and iBooks eComic editions, entirely for free.
Launched in June this year, the Dim Sum Warriors iPad app has been attracting thousands of downloads from readers all over the world. The app is an adventure-comedy comic series, loaded with features that support the learning of Mandarin Chinese and English, such as instant translations, hanyu pinyin pronunciation guides and audio voiceovers in both languages.
Featured in the online editions of Time magazine and the New York Times, the app has earned praise from authorities in the field such as legendary X-Men writer Chris Claremont, Eisner Award-winning comic artist Gene Luen Yang and digital media expert Rob Salkowitz.
The duo is looking for $8,000 to print and distribute Dim Sum Warriors Volume 1 - Enter the Dumpling, which collects episodes 1-6 of their iPad app in English. Dim Sum Warriors tells the story of three young dumplings who have to battle Colonel Quickynoodle, an evil mutant pot of instant ramen.
"The book is 144 beautiful full-color pages on high-grade paper, secured by library-quality Smyth-sewn binding," says Goh, who co-writes the book with Woo and who also illustrates all the covers, "We had the printer make a few test copies for us to preview at the 2012 New York Comic Con, and the audience response was fabulous. We really believe in the Dim Sum Warriors story, and can't wait to bring it to readers who don't have an iPad." In a review last week, Publishers Weekly praised artist Soo Lee's "delightful illustrations and Goh and Woo's engaging narrative."
For the entire 21 days of their Kickstarter campaign, Yen Yen and Colin are making every episode of their iPad app available for free, as well as their Kindle and iBooks editions.
"This is a huge experiment for us as first-time self-publishers," says Woo, an Associate Professor at Long Island University's College of Education and Information Sciences who designed the app's interactive features. "While traditional publishers have been grappling with going from print to digital, we've conceptualized Dim Sum Warriors as a complete experience, with the App, eBooks and printed book all complementing each other."
The rewards for backing the Kickstarter project include print books, t-shirts, limited edition prints and posters, original artwork, Skype consultation sessions, and a specially-written book featuring early concept art and commentaries shedding light on the journey and processes behind Dim Sum Warriors.
"We're even giving backers the chance to shadow us for a day, to see how we're bringing our diverse backgrounds in education, law, cartooning, filmmaking, and digital media management to navigate this shifting landscape in publishing and transmedia production. It'll be like an intense, up-close workshop," says Colin. "And attendees will also be treated to a dim sum lunch!"
The Dim Sum Warriors Kickstarter Page can be accessed here.
The Dim Sum Warriors iPad App can be downloaded for free from the App Store here.
Also, for the 21-day duration of the Kickstarter campaign (Mon, Oct 29 - Sun, Nov 18):
all episodes of the iPad app will be free (Please note: free issues will stay in your iPad as long as you don't delete the app. The in-app purchase system will not allow you to restore free downloads once deleted or on another device.) 
The Kindle edition of Dim Sum Warriors Volume 1 can be downloaded for free in the Kindle Store.
The iBooks edition of Dim Sum Warriors Volume 1 can be downloaded for free through the IBooks bookstore on your iPad, iPhone or iPod Touch
For more information and to schedule interviews, please contact:
Yumcha Studios LLC
(Dr.) Yen Yen Woo
+1 917-332-8931,
yenyen(at)dimsumwarriors(dot)com
http://www.dimsumwarriors.com