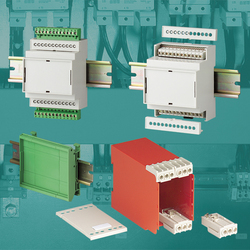 (PRWeb UK) October 6, 2010
Increasingly sophisticated building control systems are driving demand for OKW DIN rail enclosures that can handle multiple connection types.
The growing complexity of building and lighting control systems is fuelling demand for highly versatile DIN rail enclosure solutions – particularly where enclosure space is constrained.
OKW has been steadily increasing its ranges of snap-in RAILTEC-C and RAILTEC-B DIN rail enclosures to help users speed up installation of equipment.
RAILTEC-C DIN rail enclosures have been designed for easy snap-in mounting on standard DIN EN 50 022/035/045 (TS35/32/15) rails or for direct wall mounting.
They can be used for mounting components as well as for the subsequent connection work.
Typical applications range from automation technology, building and safety technology, heating and air conditioning systems, automatic time controllers, sensors, relays and signal distributors. They may also be used as a subrack for interfaces, electronics modules, amplifiers or transformers.
RAILTEC-C programme is offered in four different versions: Type C, Type CC, Type CB and Type CM. The enclosures offer different connection options for commercial components such as terminals, PCB plug headers or front connectors:

the housings give access to terminals fitted on one and/or two sides of the PCB
cases come with or without ventilation slots
cases come in different standard module widths.
The RAILTEC-C range also includes several versions with integrated connection systems. All case types have the required guides and/or screw pillars for fast assembly of the PCBs.
RAILTEC C DIN rail enclosures also allow easy assembly through snap-in installation of the individual case parts. In addition, the smooth flat case side walls have been designed to permit a series of units to be mounted side-by-side on a DIN rail – for example, in a control cabinet.
As well as different types of terminal guards, a range of accessories includes:

flat and convex front panels
wall suspension elements
an adapter for different size rails and also a support.
This allows more flexibility through the simple replacement of the interfaces and a modular design for individual component mounting. Prices for the cases start at £2.29.
Features: RAILTEC-C DIN rail enclosures:
Extensive range of models designed for fast installation of PCBs and terminals
Type C enclosures in nine basic sizes, 1 module to 12 modules inclusive
Type C widths: 17.5mm, 36mm, 53mm, 71mm, 88mm, 106mm, 160mm and 210mm
RAILTEC-CM – 8 connections on 4 levels, extendable widths, for EN 50 022 (TS35) rails
RAILTEC-CB – for plug headers (ideal in 5.0 grid max 12-pin, for EN 50 022 (TS35) and EN 50 035 (TS32) rails
RAILTEC-CC – with 12 removable terminals and clip-on front for EN 50 022 (TS35) rails
Material – PC (UL 94 V-0) – C, CC and CM; PA (UL 94 V-0) – CB
Protection Class: <IP40 (not rated)
Standard colours: light grey (RAL 7035) C and CM; green (CB) and orange/grey (CC)
Accessories – terminal guards, front panels and lids, terminal blocks, plug headers, panel mounting elements.
RAILTEC-B DIN rail enclosures are also suitable for a wide variety of industrial electrical and electronic applications.
They conform to DIN 43 880, unit 1 and are fully insulated and protected to VBG4 as well as IEC529/DIN VDE 0470-1.
RAILTEC-B models allow a combination of 5.0mm screw terminals and PCB plug headers to be fitted within the same enclosure on one or two levels.
The top part has open sections for fitting different terminal guards to suit the terminals fitted in that area. The terminal guards are offered in single and double height for both screw terminals and plug-headers, with or without ventilation slots.
Using a combination of these different terminal guards allows a wide variety of connections to be used in the same housing.
RAILTEC-B cases are moulded in flame retardant (UL 94 V-0) light grey, RAL 7035 polycarbonate (top parts) and black, RAL 9005 PPO (base parts). Six standard sizes are offered from 2 modules to 12 modules inclusive, in widths of 35mm, 52mm, 70mm, 105mm, 157mm and 210mm with common heights of 90mm and depths of 58mm.
The new models also accept accessory clip-in front panels, available in light grey, red transparent or smoked glass polycarbonate (UL 94 V-0). Partition plates are also offered to separate the terminals from the other components. Prices start at £3.
Features: RAILTEC-B DIN rail enclosures:

Fast locking to DIN rails according to DIN EN 50 022
Six sizes according to DIN EN 50 022
Fully insulated and protected according to VBG4 and IEC 529/DIN VDE 0470-1
Internal mounting points for PCBs
With or without ventilation slots
Material – PPR (UL 94 V-0) base part; PC (UL 94 V-1) top part
Protection Class: <IP40 (not rated)
Standard colours: black (RAL 9005) base part; light grey (RAL 7035) top part
Accessories – terminal guards, partition plate, front panels, front lids, mounting bracket, terminal blocks, plug headers.
OKW's DIN rail boxes complement the company's highly extensive range of standard plastic enclosures.
These electronic enclosures include state of the art modular solutions which can be easily configured to give a much wider range of options for designers.
Plastic enclosures from OKW include handheld enclosures; ergonomic wearable housings that feature belt/arm straps; wall mounted enclosures and desktop enclosures.
Configurable plastic electronic enclosures such as Interface-Terminal are so versatile that they can easily used as handheld enclosures or clipped into desk docks or wall mountings.
For more information on RAILTEC-C and RAILTEC-B DIN rail enclosures, view OKW's website or contact Sales & Marketing Director Robert Cox, +44 (0)1489 583858.
Ends
Notes For Editors
OKW ENCLOSURES LTD
15 Brunel Way
Segensworth East
Fareham
PO15 5TX
Tel: +44 (0)1489 583858
Fax: +44 (0)1489 583836
# # #