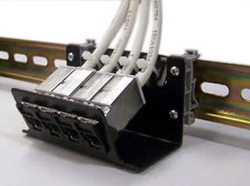 Watertown, Connecticut (Vocus) May 28, 2010
Siemon, a leading global manufacturer of IT network cabling and infrastructure systems, announces the release of their new DIN Rail Mounted Patch Panels. These 4-port panels snap securely unto any standard 35mm DIN-Rail to provide a quick and flexible patching solution for RJ-45 based copper and optical fiber Industrial Ethernet connections. This allows Ethernet connectivity to be easily mounted wherever DIN Rail is available, including in distribution cabinets, alongside DIN-Rail Ethernet switches and with PLCs and other control devices.
Siemon's DIN-Rail patch panels feature an angled mounting design for low-profile cable routing. By angling the outlet orientation, the panel provides ample cable routing space and secure strain relief in just 2.75"(70mm) of mounting depth, without impeding port access or exceeding performance-critical cable bend-radius requirements.
At just 4"(130mm) wide, the 4-port modular panels are side stackable, allowing a simple, high-density expansion path to address expanding network connectivity needs. These durable panels are constructed of lightweight, high strength steel with industrial black powder-coat finish and integrated cable management features.
Compatible with Siemon Z-MAX Outlets and MAX modules, these panels support a wide array of cabling connectivity options, including Z-MAX 6A category 6A/class EA systems in both UTP and shielded configurations, category 6 UTP Z-MAX, shielded and UTP category 5e MAX as well as LC, SC, ST and MTRJ MAX fiber modules.
Refer to the Siemon Interconnect Solutions website at http://www.siemon.com/sis for additional information on their innovative Industrial Ethernet components, structured cabling product and high-speed interconnect solutions.
Follow Siemon on Twitter: http://twitter.com/siemoncabling/
Join Siemon on Facebook: http://www.siemon.com/go/facebook
About Siemon:
Established in 1903, Siemon (http://www.siemon.com ) is a global industry leader in the development and manufacture of high quality, high-performance network cabling solutions. Siemon's Interconnect Solutions business unit (SIS) specializes in the development of high-speed interconnects. Headquartered in Watertown, Connecticut, USA, Siemon operates directly in over 30 countries and, through its channels, services customers in over 100 countries. Siemon offers a comprehensive suite of copper and optical fiber cabling systems. With over telecommunications-related 400 patents, Siemon Labs invests heavily in R&D and is actively involved with numerous industry standards organizations around the world.
http://www.siemon.com/sis
http://www.siemon.com
Media Contact:
Brian Duval
MarCom Manager
Siemon
101 Siemon Company Drive
Watertown, CT 06795
Ph: 860-945-4380
E: brian_duval(at)siemon(dot)com
###