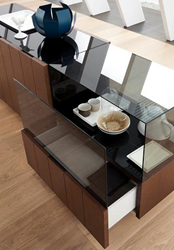 Even without actually serving food buffet style, having a landing pad for dishes somewhere between the kitchen and the table can help expedite the serving process.
(PRWEB) November 15, 2013
HomeThangs.com – the Online Home Improvement Store has made their goal to deliver the right product to the consumer. With that in mind, shopping and home design tips, as well as special product selections are being introduced.
Kitchen cabinets are designed to store the most often used items in a kitchen as intuitively as possible. But when laying out a kitchen, it can be easy to forget about less frequently used items, which there might not be room for in the kitchen, but which don't belong in long term storage. HomeThangs.com has introduced a guide to using dining room cabinets or buffets to store these in-between items.
For those who entertain large groups fairly frequently, having a separate place to stow things like tablecloths, extra stemware, or even a second set of dishes can really come in handy. Bar buffets do this well, as they keep these items near the dining table but out of the way, and come in a huge variety of sizes and shapes to match the specific needs of the space.
For those who have a full set of china, a larger, antique curio-style dining room cabinet is a great way to put these valued (but not necessarily frequently used) items on display. The glass-fronted upper half allows place settings and stemware or decanters to show while remaining protected from dust and damage, while the cabinets and drawers beneath are great for stowing silverware, serving utensils, candlesticks, and larger items like chafing dishes, seasonal dinnerware, centerpieces, and so on.
Smaller buffets can also be a practical addition both to a formal dining room and a more casual eating area. Even without actually serving food buffet style, having a landing pad for dishes somewhere between the kitchen and the table can help expedite the serving process. Having a place other than the table to put the second course or dessert can also reduce trips back and forth to the kitchen. At a smaller or very crowded table, it can also be nice to have a place to set aside serving plates while everyone at the table is eating.
Even a small dining cabinet or buffet can offer a pretty significant amount of storage. For those who don't do a lot of entertaining, this doesn't even have to be strictly dedicated to storage for dining-related items. In fact, they work quite nicely for storing things like cleaning products, off-season linens, place mats, or just about anything that would be convenient to have close at hand in a dining space. Plus, because they're so small, they can easily go unnoticed as long as they don't block the walkways.
Finally, a dining room cabinet or buffet can act as a sort of makeshift bar. Though not as well equipped (or as large) as a full sized home bar, a buffet is a great way to store liquor bottles and wine, and also acts as a nice place to set up and serve drinks. They're also a touch larger than the average standalone wine rack, which means they can store more or a greater variety of alcohol to serve – no trips back and forth to the kitchen needed.
To see more beautiful buffets and dining cabinets, check out the full article here.
HomeThangs.com is not only a home improvement superstore, it also provides expert design tips and a comprehensive shopping guide, taking the ideas from professional interior designers, and offering tips to the consumers on how to pick the products to best suit their needs.