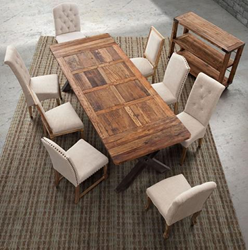 Genuine reclaimed wood tabletops are one of a kind, with their own unique small details, dints, and dings that create a rustic, antique style.
(PRWEB) October 10, 2013
HomeThangs.com – the Online Home Improvement Store has made their goal to deliver the right product to the consumer. With that in mind, shopping and home design tips, as well as special product selections are being introduced.
In recent years, reclaimed wood has gone from only being used in very specialized, niche markets to being one of the trendiest materials in contemporary design. Reclaimed wood furniture has beautiful built-in character, not just for the grain and stain of the wood, but for the natural variation, the dings, wear, and tear that make each piece individual. Reclaimed wood dining tables have become hugely popular in both modern and traditional dining rooms, and HomeThangs.com has introduced a guide to using them as a dramatic statement piece.
Reclaimed wood dining tables can be made out of almost any type of wood, from ship boards to barn doors. Some are relatively smooth while others have textured surfaces, but almost all of them will show some kind of weathering. That can mean the wood has been left to gray with age, or that the wood has naturally split or cracked. Restored, finished tables made of reclaimed wood will be at least partially restored, meaning there won't be any ragged splits or splinters, but there may be some uneven details – such as where old nails or staples were removed.
Different types of wood can create very different dining tables, and not just in terms of color. Of course, a honey-toned wood is going to look very different from a dark walnut, but if the tabletop has a clear origin it will make a very clear design impression. A very distinct table can be used to accentuate a particular style, like using a barn door style table to enhance an old fashioned farmhouse style kitchen. For a slightly more contemporary look, consider pairing a reclaimed wood dining table with formal, upholstered dining chairs.
It's important to note that dining tables made of actual reclaimed wood – rather than ones designed to have a similar rustic quality – will naturally vary from one to the next. Genuine reclaimed wood tabletops are one of a kind; they may look similar to the advertised picture, but unless it's clearly stated that the photo is of the table that's for sale, assume that it won't be. The color and type of wood should be the same, but the smaller details, dints, and dings will be different.
Choosing a reclaimed wood tabletop is only half the battle. Because the tabletops are made of salvaged wood pieces chosen for their unique appearance, the legs of the table often aren't made from the same material. Instead, they can be made out of another type of wood or metal. The style of the legs can dramatically alter the appearance of the table as a whole. For example, even simple metal legs in a chrome or stainless steel finish can give a reclaimed wood dining table a posh, modern appearance, taking a rustic piece and giving it a sleek contemporary edge.
The legs on reclaimed wood dining tables are almost always decorative, regardless of the material used to make them. After all, these are designed to be a statement piece, and while the natural texture of reclaimed wood is what gives the tables their unique charm up close, having interestingly designed legs makes them appealing from afar as well. Many reclaimed wood dining tables have reclaimed legs, too. Specifically, wood tops set on cast iron bases reclaimed from old factory equipment. A-leg bases and legs from old lathes are among the more common, but many designers are using different parts of industrial machinery to create beautiful, timeless statement tables.
To see more reclaimed wood dining tables, read the full article here, or check out more tables from Nuevo Living and Zuo Modern.
HomeThangs.com is not only a home improvement superstore, it also provides expert design tips and a comprehensive shopping guide, taking the ideas from professional interior designers, and offering tips to the consumers on how to pick the products to best suit their needs.