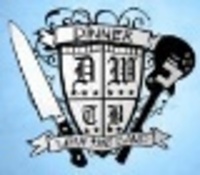 knack for shaping the simplest words and musical phrases into gut-punching, bail-skipping, ceiling-crashing joy
AUSTIN, Texas (PRWEB) August 13, 2007
Mason delights singer-keyboardist Matt Johnson and drummer Kim Schifino with a unique black olive cobbler made with Kalamata olives sweetened with port wine and finished with a streusel topping. Mason serves the cobbler with homemade almond ice cream, a perfect dish for the undeniably sweet, chipper and down-to-earth couple who readily admit they love the fun and pandemonium of sweat-drenched hipsters crowd-surfing during their shows.
Matt and Kim hail from Brooklyn where they met in 2004 and started playing together, mostly for house parties and small clubs. The indie pop band has a "knack for shaping the simplest words and musical phrases into gut-punching, bail-skipping, ceiling-crashing joy," according to a recent Pitchfork review.
In Dinner with the Band, Matt and Kim show off their infectiously exuberant onstage energy as they perform "It's a Fact," "Yea Yeah," and "Jesse Jane."
The band follows previous Dinner with the Band guests that include hip hop mastermind El-P, indie rock band Pela, Canadian indie band Tokyo Police Club, punk rockers Cities on Fire, and Brooklyn's spirited quartet Holy Hail.
To share a Dinner with the Band video, simply select the desired episode at http://www.dinnerwiththeband.tv and click on the "chain" icon in the player control bar. There, you can view the embedded HTML player code, which can be copied and pasted onto any web page.
Mason, former pastry chef of New York's famous WD-50 and proprietor of the soon-to-open contemporary dining and cocktail parlor Tailor, hosts Dinner with the Band in his apartment, usually in a t-shirt and jeans, bringing a casual, non-intimidating approach to his dishes that stimulate the palate as well as the dialogue.
Dinner with the Band is one of several new programs being introduced by ON Networks, Inc. (ON), a new media company offering original, short-form shows produced in high-definition (HD) and available for multiple digital platforms, including the Internet, digital cable, IPTV, and various mobile and gaming devices. Viewers can also download ON Networks shows for free from iTunes and watch them on an iPhone, iPod and Apple TV.
Dinner with the Band can be watched anytime, anywhere at http://www.dinnerwiththeband.tv. There, viewers can subscribe to receive notices about new Dinner with the Band episodes as well as get other program information. Other shows available at http://www.onnetworks.com are: Austin Connoisseur, Backpack Picnic, Bif! Bam! Pow! Wow!, Budget Health Nut, Cocktails on the Fly, Comedy Insider, Dinner with the Band, Feng Shui Your Way, Food Science, Golf Tips, I Am Blackness, Local Wisdom, Lust for Looks, ON Dating, Play Value, Sheltered, Stump the Chef, Try This At Home, and Zen Living.
About Sam Mason
Sam Mason, formerly the pastry chef at WD-50, is one of the most creative pastry chefs in America today. Having honed his craft at some of the most prestigious kitchens of the times including Palladin, Union Pacific, and Atlas, Mason has truly been able to shape his aesthetic culinary vision, combining molecular gastronomy with innovative ingredients to produce desserts that continually surprise the palate. He is opening a new restaurant, Tailor, in Manhattan in 2007. Capturing the spirit of old-world New York with urban sensibilities, Tailor is fashioned to become a destination for modern merrymaking and culinary exploration. For more information, visit http://www.tailornyc.com.
About Diabolik Productions
Dinner with the Band is produced by Diabolik Productions, LLC, which is comprised of brothers Darin and Greg Bresnitz. Created by Darin in 2005, Diabolik Productions serves to bring together his two passions, food and music. Darin has spent the last five years working as a producer for various networks, including UK Foods, The Austin Music Network, Current TV and the Food Network. Greg Bresnitz has spent the last seven years working in the independent music community, developing a solid background in event planning and new media marketing, having founded the New Media department for World's Fair. He recently completed his second year as event coordinator for the widely successful independent PLUG Music Awards. The brothers live and work together in Brooklyn, NY.
About ON Networks, Inc.
ON Networks is changing the way traditional TV programs are created, distributed, consumed and monetized. It's a new media company delivering original, high-definition shows on-demand across multiple digital platforms, including the Internet, digital cable, IPTV, and various mobile and gaming devices. Offering lifestyle programs for a variety of pastimes and pursuits, ON's short-form, weekly shows satisfy the growing demand for relevant, smart and entertaining programming that is available when, where and how viewers want to watch it. Join the growing community of viewers and show creators at http://www.onnetworks.com.