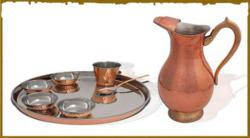 Since ancient times Indians have perfected the art of eating with fingers. Connoisseurs vouch that Indian food is best relished when eaten with fingers.
New Delhi, India (PRWEB) October 11, 2011
An India online shopping store has begun to sell to international online customers uniquely designed dinner plates and serving bowls that facilitate eating Indian food with fingers. Since ancient times Indians have perfected the art of eating with fingers. Connoisseurs vouch that Indian food is best relished when eaten with fingers.
For those living in different parts of the world and wanting to eat Indian food the Indian way, here is news. They will be able to order online and have home delivered unique dinnerware sets called thalis that is designed to help eating with fingers. Variety of curries are an integral part of Indian cuisine and it is not easy to eat them with fingers using western dinnerware. There is always a risk of curries flowing out of the normal plates while eating with fingers. Elevated outer rim at 90 degree helps prevent curries to flow out of the plate.
"Each thali set consists of dinner plate, four small serving bowls, a spoon, and a glass tumbler. The spoon is used for taking out curries from the serving bowls. The four small size bowls are used for serving different curries, daal (lentils), and sometimes, even sweets. Traditionally, sweets are often served along with the main meal. As the serving bowls are always kept inside the thali, the size of the thali is larger than the normal plate. Only the tumbler is kept outside the thali while eating food in traditional style. Unlike Western or Middle Eastern ways where food is placed at the center of the dining table and everyone serves himself from the central serving bowls, in the traditional Indian system, all the food for a person is served at once, right at the beginning on the thali dinnerware set," explained Shalini Verma, founder of ShalinIndia.
"Specific design modifications have been made in these thalis to accommodate preferences of many non-Indians. In order that food does not come in contact with copper the thalis have been made two layered. The layer that comes directly in contact with the food is made of stainless steel and the outer layer is made of copper so that it gives the visual effect of authentic Indian dining. Besides, the air trapped between the two layers of metals ensures that the food served on the thali stays warm longer," said Shalini.
"We have kept inventories of Indian ethnic dinnerware sets in the US, UK, France, and Germany. This helps us reduce shipment time and we are able to deliver orders to customers in 3 to 5 days. Customers do not pay any shipping charges, nor do they have to pay towards customs duties," added Shalini.
ShalinIndia is an online shopping store from India that sells products derived from India's rich and diverse art and crafts. The company sells its products not only through its own online store, but also through marketplaces Amazon, Ebay, Bonanza, Atomic Mall, and Webstore. All items shown on the website are available in inventory. Orders are shipped within 24 hours and delivered in 3 to 5 days.
###