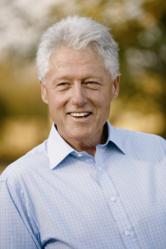 How many people can say they've had dinner with the President of the USA?
Bristol, UK (PRWEB UK) 11 September 2012
The organisers of the business show, Entrepreneurs 2012, have announced that they are auctioning two tickets to sit with their keynote speaker, President Bill Clinton, during a dinner at their event in London in November.
Entrepreneurs 2012 is a 4-day business event 'for anyone serious about growing their business'. Running from 13-16TH November, it culminates in the final day, dubbed Leaders First, where, just days after the presidential elections in the USA, Mr Clinton will be addressing an audience of business leaders and entrepreneurs from around the world.
Following his keynote address, Mr Clinton and VIP guests will attend a gala dinner designed to raise funds for his charity, The Clinton Foundation and also The Princes Trust. Now, the organisers of the show, Blak Pearl, (which earlier this year brought 30,000 business delegates to the o2 to meet Sir Richard Branson, Lord Sugar, James Caan and a host of other business icons) has decided to auction two tickets to help raise money for the two charities.
Vishal Misal, managing director of Blak Pearl said:
"With our business shows we are all about accessibility. When we were putting together the gala dinner we wondered how we might achieve the same accessibility for meeting Bill Clinton. Although we knew we would have to charge for the tickets, as this finale is a paid event to raise money for charity, we realised that many of our tickets would be quickly reserved by our sponsors and major corporations.
"That is great for us and the charities we are seeking to raise funds for but we thought the best way to make it a fairer fight for everyone would be to open it up to the world via a simple auction. That is why we are using ebay. It doesn't matter who you know, what company you work for, how you vote or whether you have funded political parties. This is a clean slate and an opportunity to take your chance to meet a true political and global icon. How many people can say they've had dinner with the President of the USA?"
The auction runs on ebay until September 20th and is for two tickets. They will not be either side of the President, rather one will be next to him and the other next to that person. Full terms and conditions can be found on the Entrepreneurs 2012 website.
Ends
__title__ Entrepreneurs 2012]