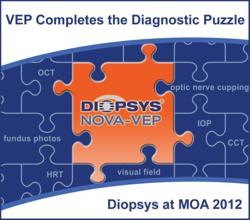 Pine Brook, NJ (PRWEB) November 30, 2012
Diopsys will be joining over 150 optometrists for the Maryland Optometric Association Annual Convention this weekend in Baltimore. The program features seven COPE presentations on topics such as the diagnosis and therapeutic management of diseases of the optic nerve, including glaucoma. Since the Diopsys® NOVA-VEP Vision Testing Systems help optometrists with these challenges, the convention's goals correspond with the company's mission.
Diopsys specializes in the development and marketing of patient-friendly, non-invasive vision testing equipment utilizing electrophysiological technology. The Diopsys® NOVA-VEP Vision Testing System suite of tests use Visual Evoked Potential (VEP) technology to objectively measure the functional responses of the entire visual pathway from the anterior segment of the eye to the visual cortex. Using VEP test results can help improve sensitivity and specificity in diagnosing visual pathway disorders, including glaucoma, when used in conjunction with other diagnostic tests.
Additionally, Diopsys plans to discuss the launch of the Diopsys® NOVA-pERG Vision Test, an office-based pattern electroretinography (ERG) test. The pERG is an evoked potential test that objectively measures the function of the retina. Data from pERG testing may help optometrists diagnose and monitor vision disorders that affect the retina like glaucoma, macular degeneration and diabetic retinopathy.
The MOA Convention will help Diopsys educate optometrists on the clinical and financial benefits of adding electrophysiological testing to their practice.