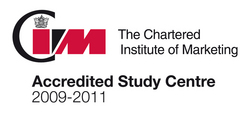 The online learning environment is absolutely great I cannot speak more highly of it! It suits my lifestyle perfectly and is great with the live course tutor
Manchester, UK (PRWeb UK) October 20, 2009
Business professionals are now taking the Professional Diploma in Marketing course through either distance or blended e-learning, enabling them to study when and where it suits them. With high quality online tutorials with specialist videos and the constant support of tutors and course management staff, this qualification promises to be an excellent addition for those interested in advancing an already active marketing career.
"The online learning environment is absolutely great I cannot speak more highly of it! It suits my lifestyle perfectly and is great with the live course tutor," said Marketer Sarah Martin-Tyrell. "I think this is an invaluable learning tool, it is just like being in a classroom (and on a Saturday morning learning feels much better in your slippers & a cup of tea)"
The CIM Professional Diploma in Marketing course content will point out the 'how to' aspects of marketing planning, helping you to develop as a marketing professional. As well as covering the theoretical aspects of marketing, the focus also covers the many skills needed to manage the function itself - including elements ranging from specialist areas like new product development, channel management and marketing communications.
The newest of MMC Learning's marketing courses is ideal for marketers with operational responsibilities and an eye on management - including department managers, functional managers, product/brand managers, account managers, agency managers, marketing executives and business development managers.
There are four units covered in the Professional Diploma in Marketing which are assessed using a blend of two basic methods:
Firstly, by formal examination for one of the units and secondly by assignments, such as coursework and case studies that require longer answers and will often be based on various findings and recommendations within your own company (or a company of your choice).
Unit 1 - The Marketing Planning Process
Unit 2 - Delivering Customer Value Through Marketing
Unit 3 - Managing Marketing
Unit 4 - Project Management in Marketing
A number of busy individuals have already enrolled on the Diploma in Marketing course for the next start date. Some of these are returning learners who have previously studied the Professional Certificate in Marketing with MMC Learning. Many have been drawn back by the constant contact and one-to-one support offered between learners and eTutors.
MMC Learning is a joint venture company with the Manchester Metropolitan University Business School and is an Accredited Study Centre for the Chartered Institute of Marketing, the leading international body for marketing and business development with over 50,000 members worldwide. MMC Learning are focused on providing cutting edge learning content and marketing courses to working professionals, with flexible ways to learn supported by a dedicated, experienced team of tutors and support staff. Now serving learners from small to large companies in over 50 countries! For more information on its marketing courses, visit the Web site at http://www.mmclearning.com.
###