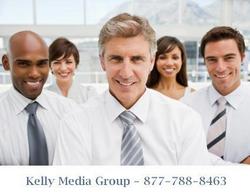 Too many companies commit their cash flow to ramping up employees before they are ready.
Upland, California (PRWEB) April 20, 2009
Kelly Media Group, a global full service marketing company, announced a direct mail advertising stimulus package to stimulate marketing ventures for companies in the US and UK. Today, the advertising agency also announced that they offering a free mail list with all committed direct mail marketing campaigns from now until June 1st. Kelly Media Group is a result driven advertising firm that provides direct mail advertising, direct response marketing for TV, lead generation, voice broadcasting, IVR, call center outsourcing, SEO marketing, video and optimization.
Kelly Media knows that direct mail marketing can seem over whelming if a company tries to take on the entire project including, gathering data, design, mailing and fulfillment. Advertisers have to consider the complete process of direct mail services that include: mailing list, printing, writing, design and mailing, so the fact that the postal rates rose as well did not help businesses looking for breaks. Businesses and organizations continue to feel the economic fallout of the recession, so KMG believes this Marketing stimulus package is coming at the right time to jump-start activity and interest.
Today many non-profit organizations, mortgage lead generation companies, real estate brokers and insurance companies have been able to profit because they are marketing more effectively since outsourcing their advertising to Kelly Media Group, a full-service advertising firm. The company says their marketing strategies succeed because they provide high quality data for direct mail marketing and combine live telephone operators at Kelly Media's call center enabling business's to handle more leads without having to hire more staff.
According to KMG president, Jason Cardiff, "Too many companies commit their cash flow to ramping up employees before they are ready." Cardiff continued, "Direct response marketing and direct mail campaigns don't always come together perfectly in the beginning. Sometimes it takes a little patience and perseverance and if you hire staff too quickly, it drains your capital and unfortunately sinks the ships for many start-up businesses." Cardiff contends that "It make sense financially to utilize today's technology and outsource to a full service advertising agency, like KMG, that has the marketing experience and the direct mail facilities, for design, printing, fulfillment and bulk discount mailing."
Whether you are a non-profit organization, mortgage company, small business or a Fortune 500 company, Kelly Media promises advertising solutions to cut labor costs and increase sales through enhanced lead generation systems and improved communications for prospects and customers.
The KMG advertising firm can help improve marketing campaigns as they also offer additional advertising services like, TV media buying, web development and SEO . Kelly Media Marketing Services has the tools needed to reach your company goals, while also increasing revenues. Unlike many traditional advertising agencies, we provide all these services under one roof:

Direct Mail Discounts
In-House Print Production
Exclusive Mail Lists
IVR & Voice Broadcasting
Call Center with Live Operators
Lead Generation Solutions
Kelly Media Group is a long-time leader for direct mail services will ensure peace of mind while maximizing the conversion rates for more leads, more sales and higher revenues. Developing the right direct mail design with advertising, marketing will win your customers over. KMG Direct Mail Services will help you develop a comprehensive mail campaign that targets your market with precision.
Kelly Media's mission remains helping companies make more money by marketing smarter with advanced technology and strategic planning. They bring a combination of marketing tools together, so businesses can increase lead generation and revenues while profiting quicker. The marketing company is adamant that you don't need to exhaust your company budget with one source of marketing. In addition to direct mail, Kelly Media Group offers direct response marketing, TV advertising, IVR and voice broadcasting solutions.
Kelly Media recommends visiting them online to get more info about direct mail advertising and lead generation. KMG says that most companies will benefit from the stealth advertising solutions that they can bring to your company and they look forward partnering in success for new direct mail marketing and lead generation campaigns.
###