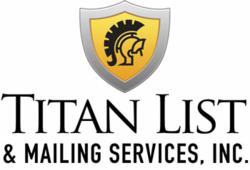 Deerfield Beach, FL (PRWEB) March 08, 2012
Advertising is in a constant state of change, with newer and more creative ideas pushing the envelope daily. But even with the changing times, direct mail is still one of the most relied upon advertising methods. The results speak for themselves. No other method of advertising is as precise at targeting a demographic and achieving consistent ROI. The newer high tech forms of advertising are forcing marketers to get with the times or get out of the way, and there has been debate about whether direct mail is still an important part of the marketing equation. Titan List & Mailing Services, Inc., a leading direct mail advertising firm, discusses the importance of direct marketing to the modern day advertising campaign, and why direct mail won't be going away anytime soon.
With the rise of the internet in the early '90's, high tech forms of advertising were adopted such as search engine optimization, banner advertising, pay per click, and social media marketing. It can be hard to imagine how an email which costs nothing to send can be compared in terms of ROI with a direct mail piece, which has postage, print and other costs. The similarity between the success of an email and direct mail campaign is that both need a high quality data list to be successful. However, email campaigns have adverse effects such as getting the company on a blacklist for sending spam, or being dropped by internet providers, and garnishing a negative reputation for the brand image. While it is also possible to gain a negative reputation for sending direct mail advertisements, there are plenty of positives that outweigh the negatives. Unlike with email, direct mail advertisements are tangible, and can be held onto for later use. Packages also carry more importance to a consumer. Packages often contain bills or important promotions, and consumers open their mail because they don't want to miss something important. Young adults are often even more receptive to direct mail because a pre-approved offer for a credit card or bank account may be their first offer and it creates a feeling of importance (emails can't use credit info for pre-approved offers). Mail can also be personalized with variable information such as name, address, pre-approved offers, or anything from a database. The main factors for using a mail piece over an email is that mail can leverage all of the senses - visual (die cuts, fancy printing, colors, etc), tactile (texture of paper, weight), taste (product samples), smell (aromas or fragrances), and sound (cd's or sound bits).
Savvy marketers are leveraging technology to achieve greater results, but the tried and true method of sending direct mail is long from becoming antiquated. While other marketing methods deliver certain results, direct mail is a reliable method of targeting a demographic and getting a consistent ROI.
ABOUT TITAN LIST & MAILING SERVICES, INC.
Titan List is a full service Advertising and Design agency specializing in Direct Mail, Internet Marketing, Search Engine Optimization and Website / Graphic Design. Titan List has been around since 1998, and has a team of highly qualified individuals with experience in the marketing trends that fit your business. Unlike other agencies that source their work out, Titan List & Mailing handles the entire campaign in-house - Data Lists, Design, Printing, Mailing, and Postage.
For more information please call or visit:
http://www.TitanLists.com | 800.544.8060