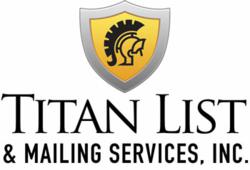 (PRWEB) January 31, 2012
Titan List & Mailing Services, Inc., a full service advertising and design agency specializing in data lists, direct mail, website / graphic design, and internet marketing / search engine optimization, discusses ways to cut postage costs on a direct mail advertising campaign. The U.S. Postal Service in response to their ongoing financial difficulties raised the postal rates on January 22, 2012. This affects first class single and bulk mail by raising the cost 1 cent per piece (in addition to Standard and Periodical mail pieces). While this may not seem like much on an individual basis, companies that mail in bulk are more affected by postal rate increases. Despite the rate increase, there are still methods to cut costs on a direct mail campaign according to Titan Lists.
Bulk rate mail shops can cut costs on a mail campaign by sorting the mail in-house. An individual mail piece delivered to the USPS needs to be sorted by carrier routes so that the letter carrier doesn't have to find each piece of mail when walking their route. Bulk rate mailers have software that automatically sorts the mail by route, which greatly cuts costs on large campaigns.
Another way companies launching direct mail campaigns can cut costs is by focusing on the saturation of a specific area. On a bulk campaign, costs are decreased when saturating a local geographic area rather than mailing to diverse geographical regions.
Bulk rate mailers get discounts when they mail 500 or more pieces at a time. A special permit is required to become a bulk rate mailer. Finding a firm that can handle all aspects of a campaign such as the data lists, printing, and mailing, will significantly cut costs on a bulk mail advertising campaign according to Titan Lists.
While the USPS has been struggling financially as of late, they won't be disappearing anytime soon. With 32,000 retail locations and the most frequently visited website in the federal government, usps.com, the Postal Service has annual revenue of more than $67 billion and delivers nearly 40 percent of the world's mail. If it were a private sector company, the U.S. Postal Service would rank 29th in the 2010 Fortune 500, according to data from usps.com.
"The overall average price increase is small and is needed to help address our current financial crisis," said Postmaster General Patrick Donahoe. "We continue to take actions within our control to increase revenue in other ways and to aggressively cut costs. To return to sound financial footing we urgently need enactment of comprehensive, long-term legislation to provide the Postal Service with a more flexible business model."
The changes in the single piece First Class Mail pricing (effective January 22, 2012) include:

Letters (1 oz.) – 1-cent increase to 45 cents
Letters additional ounces – unchanged at 20 cents
Postcards – 3-cent increase to 32 cents
Letters to Canada or Mexico (1 oz.) – 5-cent increase to 85 cents.
Letters to other international destinations – 7-cent increase to $1.05
ABOUT TITAN LIST & MAILING SERVICES, INC.
Titan List is a full service Advertising and Design agency specializing in Data Lists, Direct Mail, Website / Graphic Design, and Internet Marketing / Search Engine Optimization. Titan List has a team of highly qualified individuals with over 30 years of experience in the marketing trends that fit your business. Let Titan List maximize your business potential through marketing expertise and creative design.
http://www.TitanLists.com | 800.544.8060
###