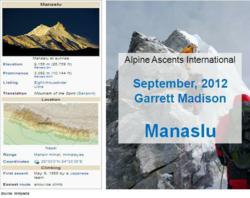 It has been a dangerous and difficult last couple days.
Huntington, NY (PRWEB) September 27, 2012
Sportsideo announced today that it will interview Alpine Ascents International's Garrett Madison direct from his expedition on Mt. Manaslu where an avalanche swept over sleeping climbers at Camp III this past Sunday. Authorities believe that at least 13 climbers have died in the avalanche with many more injured. According to reports, Madison and his team were at Camp II when the avalanche struck climbers at the higher up Camp III at approximately 23,000 feet. Sportsideo plans to publish its interview with Garrett Madison later this week.
According to Asia News, rescuers have brought 12 people to safety, but actual number of climbers who remain missing is not yet clear. Search operations continue, though bad weather and frigid temperatures are making search difficult. Authorities believe this to be the worst climbing disaster in Nepal since 1995 when more than 40 people (17 foreigners) froze to death, after heavy snow falls, near Mount Everest.
Sportsideo's Keith Irizarry spoke with Garrett Madison this week via sat phone and Madison reported that "it has been a dangerous and difficult last couple days. The avalanche definitely changed some things for many of the climbing teams, but they all tried to pitch in and help out as best as they could." Madison concluded, "I'm looking forward to sharing the events with Sportsideo's community."
Sportsideo will publish its interview with Garrett Madison direct from Mt. Manaslu later this week on its Home Page.
About Sportsideo
Sportsideo (Sports "for that reason") was founded by professional and amateur athletes to enable people to connect, share, learn, improve, and achieve with others in their favorite sports. Sportsideo provides each member of our community with the same "pro experience" enjoyed by professional athletes whenever they enter their locker room – free, easy and instant access to professional and amateur Athletes, Coaches, Scouts, Officials, Agents, Executives, Healthcare Pros, Trainers, Nutritionists, News Reporters, and Sports Organizations. Join the Sportsideo community by visiting Sportsideo. You can get updates on Sportsideo by checking Sportsideo's Facebook page, follow us on Twitter, or visit our YouTube Channel.