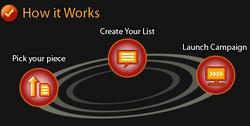 Fort Worth, TX (PRWEB) May 21, 2008
Precision Mailers, the U.S. provider of advanced direct marketing solutions, announces the advent of Venture Manager™, an online direct mail and promotional goods ordering and fulfillment solution created for franchise organizations.
The Venture Manager Web solution enables franchisees to login to the system via a secure Internet connection to view pre-approved, corporate-branded direct mail pieces or other promotional items.
The system's built-in mailing list sourcing tool provides real-time list counts based upon user-selected demographic or other criteria. It lets users customize mailers, posters and other pieces with address, coupon and location information and then displays on online proof for how the final piece will look.
"Successful franchise and dealer organizations today have the need to streamline the procurement and fulfillment of direct mail and promotional goods so that they can stay focused on meeting their core business objectives. We created Venture Manager to fulfill this need," said Precision Mailers co-founder, Mark Mauser.
Franchisees appreciate Venture Manager because it gives them access to a one-stop-shop for all of their promotional goods without having to shop around for fulfillment vendors or request corporate approval. They can complete an entire order online in less than 10 minutes, and the system provides hassle-free ordering since printing and mailing fulfillment vendors are pre-arranged.
Franchisors benefit from huge time savings since they no longer have to spend time approving marketing campaigns for individual locations. Adopting the system ensures that the organization presents a unified brand image across all locations. And, adopting the system creates an additional reason for prospective investors to join the organization as franchisees.
Venture Manager can be "skinned' with the organization's color scheme, logo and other design elements. Since it is a Web application, new users do not need to install any software in order to use the system.
About Precision Mailers:
Headquartered in Fort Worth, Texas, Precision Mailers provides advanced customer segmentation, direct mail, and mailing list fulfillment solutions for B2B and B2C applications. Visit Venture Manager Solution to view a short demo video about Venture Manager today.
###