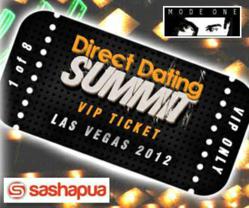 Many single heterosexual men become paralyzed by the fear of rejection; overcoming this fear is the first step to improving your success with women.
Las Vegas, NV (PRWEB) February 02, 2012
Can a man learn from a professional Dating Coach, Pickup Artist, or Seduction Guru how to overcome his fear of rejection and negative reactions from women, and subsequently, learn how to approach single women of interest with significantly more self-confidence and self-assurance? According to at least one book author, the answer is yes.
Alan Roger Currie, who recently had all three of his paperbacks ranked in the Top 100 bestsellers on Amazon.com in the category of "dating and relationships," definitely believes you can teach men how to overcome their fears, their invalid beliefs, counterproductive attitudes, and egotistical insecurities, and help these men ultimately become more successful with women. Currie will headline a number of featured speakers at the upcoming "Direct Dating Summit USA" to be held in Las Vegas on March 17-18, 2012.
Currie's first paperback, Mode One: Let the Women Know What You're REALLY Thinking, has been read by men in twenty-five different countries around the world, and was written to help men overcome their reluctance to approach women of interest due to a profound fear of rejection, criticism, and humiliation.
"Many single heterosexual men become paralyzed by the fear of rejection; overcoming this fear is the first step to improving their success with women," said Currie. "I have literally hundreds of Email testimonials from men thanking me for sharing my unique brand of knowledge and wisdom with them, and helping them overcome their fear of approaching women, their fear of initiating and maintaining a conversation with women, and their fear of expressing their romantic and sexual desires, interests and intentions to women in a highly self-assured, upfront, and straightforwardly honest manner. Most men allow their minds to create visualizations of being criticized by women or rejected by women in a manner that is much more harsh and abrupt than what they will usually experience in real life," said Currie, who was voted as the most charismatic and informative speaker by a survey of those who attended the very first Direct Approach Dating Summit UK that was held in London, England in November 2010.
The Direct Approach Dating Summit is the brainchild of a professional Dating Coach and Pickup Artist who goes by the pseudonym "Sasha Daygame." Sasha spent the last few years in London, but is currently touring the United States helping men in various cities learn how to approach women with more confidence, and help these same men create more romantic and sexual interest from women.
"I received nothing but positive feedback from the men in London after the Direct Dating Summit UK, and then the demand came from men here in the States for another one. I am very excited about it, and I hope to have this event in a new and different country each and every year," said Sasha, who will be the Host and Master of Ceremonies for the two-day weekend conference.
Joining Currie in Las Vegas will be a direct approach guru and professional Dating Coach from Croatia who was a featured speaker in London along with Currie, who goes by the moniker "Badboy"; "Johnny Soporno," who is a professional Dating Coach and Seduction Adviser who founded "The Worthy Playboy Institute"; and James Marshall, who has been rated as "Australia's Best Natural Dating Coach."
Currie's newest paperback, released in late December of 2011, is entitled Oooooh . . . Say it Again: Mastering the Fine Art of Verbal Seduction and Aural Sex, which is available on Amazon.com as both a paperback and a Kindle eBook. Currie, whose female fans refer to him as "The King of Verbal Seduction," said that he already has had at least two male clients of his experience their first ménage à trois with two women as a direct result of the advice he offered in "Say it Again".
Currie asserts in his most recent paperback that just about all women in society have an inner "kinky freak" side to them that often times remains indefinitely suppressed due to cultural conditioning and the influence of many "conservative prude" types in society, but Currie also believes that most women can be motivated to unleash and reveal that hidden side of their sexuality to a man who has been taught how to use his voice in just the right way at the right time, and has learned how to develop a smooth verbal delivery of sexually provocative and erotically explicit words and phrases to women's ears that usually leads to instantaneous sexual arousal. "In the same way most men are visual, most women are auditory. Women respond very favorably to men who have a 'way with words' and a high degree of self-assurance," said Currie.
"I have received five star reviews not only from men who have read my new book, but from women too. I do not teach men how to lie to women in order to get them in bed, or how to mislead them, manipulate them, drug them, or get them drunk in order to have sex with them. What I teach in all my books is simply how to become more confident with women, and how to develop the cojones to be more honest and forthright about your sexual desires, interests, and intentions with women. I do not like men or women who engage in 'manipulative head games' with each other," said Currie,
Currie is also the Host of two talk radio podcast programs, one entitled "The Erotic Conversationalist" and the other entitled "Upfront & Straightforward with Alan Roger Currie," and on Thursday, February 16, 2012, Currie will invite men to call into his show to discuss PUA bootcamps that helped them, as well as those weekend conferences, seminars and workshops that left customers feeling "ripped off." Currie is also scheduled to have a handful of women involved in the discussion to get feedback on some teachings by Dating Coaches, Seduction Gurus, and Pickup Artists they approve of, as well as techniques they feel are manipulative and detrimental to women.
"I never make promises I cannot deliver," said Currie. "I never 'guarantee' a client of mine that he will become some overnight ladies' man or top-notch womanizer within a week or two. I only promise men that after they listen to the knowledge and experiences that I have to share with them, and absorb all of my wisdom related to interacting with women, their fear of being rejected by women will significantly diminish, and their fear of receiving negative reactions from women will significantly diminish. After those two fears are eliminated, most of what contributes to their success with women from that point forward will be up to them."
For more details about the upcoming Direct Approach Dating Summit USA weekend conference in Las Vegas, visit http://www.directdatingsummit.com; For more information about Alan Roger Currie's books, visit http://www.modeone.net
###