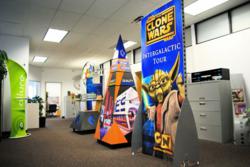 Albany, NY (PRWEB) September 27, 2011
SmartWatt Energy, Inc., a leader in program administration for utility energy-efficiency programs, will be a sponsor at the Association of Energy Services Professional's (AESP) Fall Conference and Expo at the Westin Galleria in Dallas, TX on October 3-6, 2011.
SmartWatt Energy's turnkey approach and experience in designing, managing and implementing direct install programs, provides utility companies with a single source provider option. With operations based throughout the United States, they have completed thousands of energy-efficiency projects with businesses; saving customers millions of dollars on utility bills and helping utility providers meet ambitious energy savings goals. Currently, SmartWatt Energy is the sole Program Administrator for National Grid's Direct Install Small Business Program in Central and Northern New York, and an Implementation Contractor for Willdan in the Orange & Rockland and Con Edison Small Business Programs.
The AESP Fall Conference and Expo will focus on how Smart Grid programs are producing real results in changing utility customers' behaviors and attitudes towards energy-efficiency. The Conference will include two full days of speaker presentations, panel discussions, and interactive roundtable networking events. Over 300 professionals are expected to attend this year, including utility professionals, government policy makers and industry advisors.
ABOUT SMARTWATT ENERGY, INC.
SmartWatt Energy, Inc., is a leading nationwide provider of turnkey energy-efficiency solutions. SmartWatt Energy is dedicated to lowering businesses' operational costs through demand-side energy-reduction strategies. SmartWatt Energy provides whole building energy assessments and implements lighting retrofits, variable-frequency drive upgrades, control system enhancements and other mechanical upgrades to help commercial, industrial, government and utility customers meet their sustainability goals. SmartWatt Energy's energy-efficiency services include construction-grade energy audits, value-engineered designs, self-performed installations, utility incentive procurement, facilitation of EPAct 2005 tax deductions and maintenance support.
###