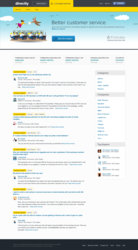 Directly is an open market for information, operating more or less parallel to the closed, non-market systems run by most companies, allowing a more direct relationship between consumers and workers, and giving more power to both of them.
San Francisco, CA (PRWEB) December 03, 2012
Directly (directly.com), a website that offers customers a better way to get help straight from experts, launched today following a year in beta as Insidr. The company is highlighting the following aspects of its launch as key innovations:

The ability to get fast, personal attention from 3,000+ experts who know over 40 companies
Response time under 15 minutes on average
The opportunity to reward the most helpful experts with cash rewards and charitable donations
New mobile apps that make it easier for experts, who work on their own free time, to respond.
Central to the Directly help site is the ability to save time and hassle by getting fast, personal attention straight from experts who know big companies inside and out.
When a person asks a question on the site, Directly analyzes the question, matches it to the experts and alerts them on their phones. Experts compete to provide the best answer using mobile and Android apps. Most questions get answered within 15 minutes. Once a question is answered, users rank the experts, follow up one-on-one with the most helpful expert and can give them a tip or a cash reward.
Directly experts work independently in their own free time. They can be current or former employees, partners or people close enough to a company to know the company and products well. At launch, experts include employees, alumni and partners of mobile providers such as AT&T, Sprint and Verizon; TV service providers such as Comcast, DirectTV and Dish Network; banks such as Bank of America and Chase; and airlines including American, Delta, Southwest and United.
Because experts work independently, they can give fast, personal attention that helps people save time and hassle. For example, an insider on Directly (formerly Insidr) helped a DirecTV customer save his satellite service by pointing to relevant FCC regulations after his home owner's association told him his dish had to go. And another insider helped Sprint customer gain a refund after a tower outage in her area.
"I love this site! I got an answer very quickly!" said Sprint customer Sydney Mackey. "I like how I get it straight to my e-mail instead of trying to find my question again on the website. If I ever have a problem again, I will definitely use this. It's so much easier and faster than calling and being put on hold."
Experts sign up at directly.com/apply and must maintain a high rating to continue to help customers. Experts can earn cash rewards or donate their rewards to supported charities.
"I've had the pleasure of being one of the experts for a year," said Bank of America alumnus and expert Marilyn Bennett. "While it's always fun to get the notification that someone I've answered a question for has send along a tip -- and the extra money has been great for treats here or there -- I find the absolute best part is how often I get to help out those people who felt they've run into a brick wall. And haven't we all been there at one time or another?"
The new release is at the junction of three major trends:
Expert crowdsourcing that is redefining how the skilled workforce works
Online marketplaces that let millions of people get paid for services they provide
A mobile computing generation with 120 million of U.S. smartphone owners
"Customers are generally stuck with one-size-fits-all service," said Esther Dyson, an investor in Directly and chair of EDventure Holdings. "Directly is an open market for information, operating more or less parallel to the closed, non-market systems run by most companies, allowing a more direct relationship between consumers and workers, and giving more power to both of them."
"Trapping people inside big company systems and making employees talk using scripts doesn't work. By connecting individuals, Directly is part of a movement toward free systems where customers show up as human beings and not just as cattle to be herded," said Doc Searls, author of "The Intention Economy: When Customers Take Charge" (Harvard Business Review Press and head of ProjectVRM at the Berkman Center for Internet and Society at Harvard University.
Directly also announced the 1.0 version of the core platform supporting Directly.com. With the new platform, Directly is able to launch additional sites quickly to help people with a wider variety of topics.
"The mobile and social web helps people connect and communicate quickly and openly," said Antony Brydon, Directly CEO. "We think these technologies can solve some of the big business problems that institutions haven't been able to solve on their own."
###
About Directly
Directly makes it easy to get fast, personal attention from experts who know the industry and company you're dealing with inside and out. Directly's community of experts sign up and work independently in their own free time. They earn rewards and reputation, and can cash out their rewards or donate them to one of the non-profit causes we support. Directly is free, with paid options for advanced targeting and better, faster help. Since December 2011, thousands of Directly experts who know dozens of companies have helped over 20,000 customers with a 99 percent response rate and an average response time less than 15 minutes. Directly is an independent community of experts and is not sponsored by any big company, although companies can informally encourage team members to sign up and help customers. Directly is backed by True Ventures and prominent angels including Esther Dyson and is based in San Francisco.