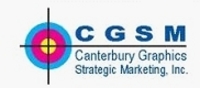 Your recipients should be curious; maybe a little excited, and open your letter with anticipation.
WILTON, CT. (PRWEB) February 19, 2008
"Why didn't they open my mailer?" is a common frustration for marketers every day. It's also one of the questions the team at Canterbury Graphics Strategic Marketing (http://www.CGSM.com), a direct-marketing agency, has heard often enough to prompt them to develop a list of Top Ten Tips for Boosting Direct Mail Response Rates to help marketers avoid a lot of trial and error. Lisa Berman-Calitri, a direct marketing expert at CGSM says, "When potential customers receive one of your direct mailer pieces, you want them to say, "Wow! What have I got here?" Your recipients should be curious; maybe a little excited, and open your letter with anticipation."
Top Ten Tips for Boosting Direct Mail Response Rates
1. Change your envelope! People become fatigued seeing the same old envelope that you send repeatedly. They know it's coming, what it looks like, and they know it's going directly into the trash. Solution: change the paper, color, or size of the envelope. A different look and feel will stand out in the mailbox.
2. Use teaser copy on the envelope. Make your teaser a shocking fact or something so enticing that your recipient wants to open your envelope to learn more.
3. Add a "Reply By" date. Adding a reply by date adds urgency to your mail piece. It makes the prospect respond to your offer quickly. "I have to do it now!"
4. Try a lift letter. A lift letter is an extra letter tucked into your main offer. You've probably received "A Note from the Publisher" when it was time to renew a favorite magazine. It made you think "Wow! The publisher wants me as a subscriber." In the same way, a lift letter gives you one more chance to sell your product or service.
5. Highlight the benefits of your product or service. Show how your product or service is going to make life easier or better for your prospect. "What's in it for me?"
6. Put your call to action in a bold and legible font. You want someone to call, email, go to a landing page? Tell them in bold type they won't have to squint to read!
7. Make sure your telephone number is large and in a bright color. Red is always a good choice! "Call us at 1-800-555-5555 for more information."
8. Make sure you offer appeals to your audience. Sell windshield wipers to car owners. Sell dog food to dog owners. Sell - you get the point.
9. Use the word Free. Free is stronger than any percentage off. "Buy 1 get 1 FREE!" Go ahead, use it, I'll give you this one for free!
10. Personalize your mail piece. Don't say "Dear Homeowner" or worse "Dear Current Resident" (How fast do you throw away those letters? My husband and I have contests to see who can throw them away fastest.) Instead, use simple mail merge lists (or more complex personalization techniques) to make your mailers more directed. "Dear Jane Sample. We're pleased to tell you that you have just won...." "I won! They picked me!"
About CGSM
CGSM is a privately held direct marketing agency specializing in the marketing strategy, design and production of email campaigns, direct mail-packages and inserts. Its production skills combined with a focus on data analysis and modeling make it possible for CGSM to offer a unique approach to customer acquisition and retention that takes into account all the complex details of a direct marketing campaign without ever losing sight of the overall business objectives. For more information, please visit http://www.cgsm.com
To schedule an interview, please contact Jill Cirigliano of Communication Strategy Group by email at (jcirigliano @ gocsg.com).
Media Contact
Jill Cirigliano, Communication Strategy Group for CGSM
(jcirigliano @ gocsg.com)
http://www.gocsg.com
# # #