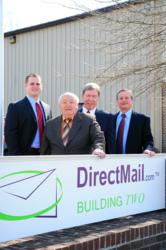 At a time when so many of our competitors' businesses failed, we managed to succeed by staying attuned to the ever-changing business landscape and holding true to our core values.
Prince Frederick, Md. (PRWEB) February 07, 2013
DirectMail.com™ (http://www.DirectMail.com), a market leader in Intelligent Direct Marketing Solutions that elicit a "Yes!" response, today summarized its major accomplishments of 2012. In a year marked by a challenging economy, DirectMail.com saw its revenue top $41 million. This increase reflected, in part, changes implemented as a result of a detailed analysis of its corporate strengths, weaknesses, opportunities and threats, and recognition of the need to adapt to changes in the business environment.

Corporate Branding: DirectMail.com launched both a new website and a new logo. The website is built around the firm's unique Intelligent Marketing Process: Identify > Target > Contact > Acquire > Engage and Retain. Beyond marketing DirectMail.com's capabilities, the website offers a convenient portal for customer orders. In keeping with its new messaging, DirectMail.com completely revised its marketing collateral as well.
DirectMail.com's new corporate logo incorporates the tag line: "Intelligent Marketing Solutions. Delivered." The firm's core competency as a direct marketing agency– and its ability to develop business intelligence insight and then design, create, produce and distribute targeted campaigns – is reflected in the phrase "Intelligent Marketing Solutions." The word "Delivered" speaks to DirectMail.com's expertise in data and analytics, identifying high-value recipients and then transmitting multi-channel messages to prospects, customers, donors and more employing their preferred contact mode.
Industry Leadership: DirectMail.com Principal Kirk Swain was elected a Director on the Printing and Graphics Association MidAtlantic Board of Directors. In addition, with Vice President of Data and Analytics Joe Leger, Kirk served as a guest panelist on the National Association of Printing Leadership's NewsTalk Live broadcast addressing "Web-to-Print: Struggles & Successes." DirectMail.com executives shared their industry experience by writing six bylined articles and providing expert opinions in six more pieces. DirectMail.com shared its innovative practices with readers of Quick Printing, Deliver, Chief Marketer and Chief Data Marketer in feature articles.
Social Media: Recognizing the growing importance of social media, DirectMail.com expanded efforts to leverage the wide-ranging capabilities of Facebook, LinkedIn, Twitter and Google+. DirectMail.com instituted "Tuesday Tips" and "Friday Facts" as weekly posts where its experts share insider tips and information on direct mail marketing, industry trends, best practices, articles and more. DirectMail.com employed its social media pages to promote visits to its DMA2012 booth by holding a contest where it awarded an iPad3 as a prize.
Clients and Personnel: In 2012, DirectMail.com signed a variety of nonprofit and commercial clients including National Wildlife Federation, Affinity Center International, MapCreator USA's Maps4Mail and Renewing American Leadership. DirectMail.com also expanded its staff, adding a Director of Business Development position and hiring a new Account Executive within the Marketing Department.
Technology and Equipment: DirectMail.com began work on version 3 of its patented GeoSelector™ technology, adding a series of new features and functionality; a 2013 release is scheduled. In addition, DirectMail.com acquired two new Canon imagePRESS C7010VP digital printers to double the firm's capacity to offer print-on-demand products, especially "version of one" marketing pieces. DirectMail.com also purchased an MCS Eagle UV Inkjet system with a 4.25" print head to accommodate wide print-width products and support difficult substrates such as coated aqueous stocks, plastic cards and more.
Corporate Capabilities: DirectMail.com expanded its multi-channel capabilities with a new email delivery platform. DirectMail.com increased the number of clients integrating email campaigns within their marketing programs by over 55%. In addition, DirectMail.com focused on offering its customers unique data to help them increase market share. Toward that end, DirectMail.com released four new data assets (Political Personalities, Charitable Share of Wallet, Profitability Index and Net Assets Index) and a Teenage Girls and Special Events list.
Awards and Community Involvement: In December, Printing Impressions named DirectMail.com to the PI 400, the industry's most comprehensive ranking of the leading printing companies in the United States and Canada. DirectMail.com also attained a notable milestone: 30 years as a member of the Calvert County Chamber of Commerce. DirectMail.com continued mentoring future marketing professionals through the Direct Marketing Association of Washington, D.C.- Educational Foundation by hosting a Salisbury University student. In addition, the company continued its support of Calvert Memorial Hospital and participated in the Community Foundation of Southern Maryland's 2nd Annual Kickball Tournament.
Shawn Salta, Vice President, DirectMail.com, said "DirectMail.com rose to all the challenges 2012 presented. At a time when so many of our competitors' businesses failed, we managed to succeed by staying attuned to the ever-changing business landscape and holding true to our core values. We take seriously our 40+ year heritage as an industry leader and will continue to lead through innovation, diversification and responsible citizenship."
About DirectMail.com
DirectMail.com, headquartered in metropolitan Washington, D.C., is an industry leader offering Agency, Data Products, Business Intelligence Insight, Email Marketing and Production services. For over 40 years, DirectMail.com's unique Intelligent Marketing Process (Identify > Target > Contact > Acquire > Engage and Retain) has grown clients' market share by applying strategies proven to increase customer and donor acquisition and retention. Staffed by over 250 direct marketing professionals, DirectMail.com's proprietary data, business intelligence technology and segmentation products FUEL the marketing engines of the nation's leading brands and fundraisers, consistently improving results and achieving a positive ROI. For more information about DirectMail.com, please visit us at http://www.DirectMail.com, or call 1-888-690-2252.