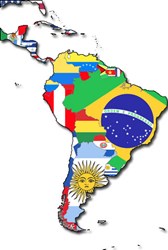 The demand for easy-to-use business directory software in Latin America is stronger than ever.
Santa Monica, California (PRWEB) January 14, 2014
After months of research, flights, and meetings with focus groups, Santa Monica based software startup, Brilliant Directories, announces their expansion into Latin America.
Brilliant Directories is a leading business directory software that enables website owners, private organizations and entrepreneurs to publish directory-driven websites. The fundamental value of directory websites is the ability to digitally organize information. This information can be associated with geographical locations, niche industries, businesses, and more, providing a diverse and powerful platform for online entrepreneurs.
Market studies suggest that the main obstacle internet entrepreneurs face in Latin-America is the lack of an accessible solution for launching directory-based websites. The cost of developing directory websites from scratch are out of reach for the average consumer and dated software options geared towards Spanish-Speaking markets are not effective as a modern business tool.
"We see time and again that when a population has access to structured, accessible information, their economy grows and quality of life improves." said Brilliant Directories Co-Founder Matthew Brooks. "Online directories have proven successful in English-Speaking markets, and the demand for easy-to-use business directory software for the market in Latin America is stronger than ever. We have made it part of our mission to fulfill that need."
Allocating an estimated $1.5 million to be invested over the next 3 years in new developer talent, improved facilities, and marketing initiatives, Brilliant Directories has already begun their new market expansion. Their aim is to help build stronger local communities by introducing business listing and classified ad website models in Latin America, starting with their first location in San José, Costa Rica.
------
About Brilliant Directories: Brilliant Directories believes that directory software should be versatile, accessible and easy to use. Founded in 2009, Brilliant Directories powers thousands of directory websites with millions of users worldwide -- from local organizations to global enterprises. Learn more at http://www.BrilliantDirectories.com.