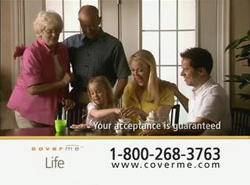 Through our longstanding partnership with Northern Lights, we have found direct response television to be instrumental in both fostering our brand and delivering a measurable ROI
Toronto, ON (PRWEB) September 22, 2009
Northern Lights Direct Response has created a new direct response television (DRTV) campaign for Manulife Financial's CoverMe Guaranteed Issue Life insurance.
The direct response campaign consists of 120- and 60-second DRTV commercials, highlighting the main features of affordability, guaranteed acceptance for those aged 40-75, and the fact that medical exams and answers to health questions are not required at the time of application. The DRTV commercials drive viewers to an 800 number and coverme.com.
"Through our longstanding partnership with Northern Lights, we have found direct response television to be instrumental in both fostering our brand and delivering a measurable ROI," says Bob Doyle, Director, Strategic Marketing, Affinity Markets for Manulife Financial. "After many successful Manulife Financial DRTV campaigns that Northern Lights has produced, it made sense to have them create the campaign for CoverMe Guaranteed Issue Life."
Ian French, President of Northern Lights, is proud of his direct response agency's work for Manulife Financial, and excited to see the DRTV commercials hit the air. "The strength of the Manulife Financial brand and proven direct response principles were incorporated into the DRTV commercials to underscore the importance of life insurance," says French. "By using this approach, we expect the campaign to drive website visits and make the phones ring."
The campaign rolls out this month.
Northern Lights Direct Response is a leading brand direct response agency in North America. We offer full turnkey strategy, direct response media, creative and production services in both the U.S. and Canada for Direct Response Television, Direct Response Online and Direct Response Radio campaigns. Clients include: Sports Illustrated, John Hancock, Bell, TD Bank Financial Group, DIRECTV, Scholastic and Yves Rocher. For more information, visit nldrtv.com.
Contact:
Ian French
President
416.593.6104 (x223)
###